DEATH OF SATHYA SAI BABA - APRIL 24TH, 2011 - AGED 84
(I.E. BEING IN HIS 85TH YEAR)


The BBC announced the death of Sathya Sai Baba, but added that he was accused of fraudulent miracle tricks and sexual abuses (which he of course had denied). This is an epitaph that will always follow him and, as researchers and historians collect and study the evidence, the accusations and the reason Sai Baba avoided prosecution will become evident and a permanent part of his otherwise largely bogus 'story'. His own demise was wrongly predicted by him, he did not live into his 90s as he prophesied on numerous occasions (stating several different ages at different times too!). This event confounded all the devotees who blindly believed his words and in his divinity.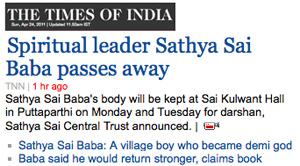 How did Sai Baba actually die? He died a sick man, in more sense than one!  The medical report states cardio-respiratory failure. Now that is very vague medical terminology, but what caused this breathing and heart failure? This happens if one is taken off vital life support. So was he kept until he could be pushed? Those who really know keep their mouths tighter than clams. However, the date fitted in extremely and suspiciously well with all the massive planning of the authorities for a big screen send-off, new helicopter pads for VIPs all preparing to descend on the actual death day which was yet unannounced! As I actually predicted in my blog on April 23rd (day before his announced death), his death would most likely be announced on the day that it is widely believed (imaginatively) that Jesus was resurrected - Easter Sunday. Those in power around him most likely kept him on life support - despite earlier brain death - so they could disconnect him on just that day for obvious symbolic reasons, to identify him with Jesus!

A legally invalid 'death certificate' was issued by Dr. Safaya here (The Case of the Missing Death Certificate)  after which A Dr. Safaya resigned his post due referring to undue pressures that had been put upon him! In fact, failure of the heart and respiration are not a sufficient or legally valid description of the cause of death. When anyone dies, both the heart and the breathing fail. That Sai Baba had lost weight (reportedly was only 28 lbs.) and suffered multiple organ failures is consistent with what most of his victims suspect, that he died of AIDS, hence the mighty cover-up of all details of his hospitalization, duration and nature of his illness and what a proper account would reveal. A major counter-claim to the information from the Trust and its members was bravely made by a former Minister (Nagireddy) stating that Sai Baba had been badly maltreated, drugged, starved and had cried for help from devotees when he was being 'taken away' to his own hospital by his murky 'minders' and 'servitors'. See Sai officials' secret collusion over the death of Sathya Sai Baba
Sai Baba was a sick man long before his actual demise Since his second hip injury in 2003, and several subsequent bone breakages, it seems that his purity, patience and perseverance have flown, but not pomp, pride nor increasing testimonies of his paedophilia and other abuses. He had been confined to wheelchairs and physical assistance for standing up and moving even a step for years. It was said that he is degenerating more and more, can't speak properly. Considering how much help and hand guidance he needed for years for every simple thing like cutting a cake, lighting a candle and so on, the reports on the jungle telegraph that he could not manage his own basic bodily functions any longer was most likely true. But his officials never allowed any such things to leak out as far too embarrassing for the whole cover-up of his degeneration. Photos of him, once taken and posted every day, ceased to appear on the official website... unless his features and expressions were unclear and not to be seen properly. Towards the end appeared zombie-like and was known to have been drugged daily with uppers and downers by his only trusted male consort Sathyajit.
One of my correspondents mailed me this perceptive comment: "Now after his death the inner circle will do all their best to protect his image of an avatar or at least a saint as it is a vital factor for the future donations and pilgrims attraction. On the other hand, it is a good point for journalists and historians to focus on SSB as he was with all his stuff. This is an opportunity for critical voices to be heard." There is much that many people know but dared not speak about in public; the murders ordered by Sai Baba according to an eye-witness to the grisly night of carnage, the countless sexual abuses of students known through our contacts but of which only a relative handful have dared write about and then mostly anonymously (due to murder fears, harassment of many kinds etc. As time goes by, more and more evidence and testimony comes forth... and sexually abused Indian students can be expected largely to take at least a generation before they can come to terms with their being violated enough to speak out. The Hare Krishna and massive Catholic Church sex scandals - to take just two examples - illustrated many such time lapses. In India, the pressure of shame is still on against almost all sex abuse whistle blowers (but not if the accused are foreigners).

Hilarious damage-limitation attempts: What we may call the 'lunar delusion' was soon invented to try to explain away (only one of) Sai Baba's several different false predictions of his age at death. The Sathya Sai Organization - both centrally and in various countries - claim that he calculated his life span in lunar years, not solar (calendar) years. They juggle with various figures and lunar month lengths and try to get his age up to over 90, but none of the calculations agree with their assumption of lunar years. That he gave various conflicting predictions of his death from around 92 to over 96 is, of course, ignored by them. Sai Baba said in a published discourse in 1960 he would live for 59 more years and again in 1961 he would live for 58 more years. Do the arithmetic and see that even lunar years will not rebut his alleged 2011 death date prediction!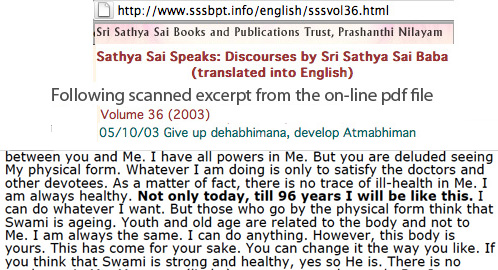 At http://en.wikipedia.org/wiki/Hinducalendar we read:-
"When a new moon occurs before sunrise on a day, that day is said to be the first day of the lunar month. So it is evident that the end of the lunar month will coincide with a new moon. A lunar month has 29 or 30 days (according to the movement of the moon)."

By definition, a year is the time it takes for the earth to circumnambulate the sun, not for the moon to do likewise (it simply follows the earth around). A "lunar year" is a mere contrivance, firstly because 'a year' means the solar cycle of 365 days, which is greater than the number of days it takes for the moon to encircle the earth in on calendar year. So it makes no sense whatever to divide by 12 the total number of 'lunar' months in a life time, (as the shastris do) so as to try to 'prove' a different number of 'years'. The hard fact that Sathya Sai Baba lived for only solar/calendar 84 years, and that he always reckoned in calendar years in every documented word (despite desperate posthumous claims that he told other things in private).

The 'lunar year' is a most uncommon measure never used in any Sai literature at all... not until after his death. The concept a non-starter The calculations the Hindu shastris presented do not agree with the actual dates anyhow with their own obscure calculations based on their ancient calendars and outdated astrological ideas. See a more detailed analysis of the lunar year confusion
In The Telegraph U.K. 'Sathya Sai Baba's death triggers fight for his £5.5 billion empire' the journalist who interviewed us noted the following:-

... former devotee Barry Pittard said Sai Baba was a dangerous confidence trickster who should have been allowed to have anything to do with children.
"For the worst victims of his depredations, the victims of murder and maiming and people being beaten by his officers and families being broken up and the boys, some of them very young, their sufferings have been very great."
And former Sai organisation teacher Robert Priddy, who helped set up the teacher training model, said most people teaching the programme were unqualified to do so.
"The aim of embedding 'spiritual' values in children was heavily imprinted with indoctrinating them to believe in Sai Baba's divinity and doctrine," he warned.

Death in ignominy despite enormous medical resources used Sathya Sai Baba was a broken man by the time they took him away to his own super-specialty hospital while he cried out to devotees to help him! Of course he was unable to cure himself, as most devotees fully expected! This time it was all too real an illness, not a play-act from which he could appear to cure himself! At his previous birthday (the 85th by Indian reckoning when he was 84 years old) he was like a wooden idol, expressionless and mostly completely silent and rigid. He broke down in tears when a speaker called him 'Sri, Sri, Sri Sathya Sai'! (see video clip download 3.9 mbs http://www.exbaba.com/videos/crying_baba_231110.wmv or to download quicktime movie shortened clip 9Mbs click here) He proved that he could not live up to his own ideal. He died without the having had the ability to speak at all for weeks, let alone laugh... so believers in him should judge him by his end according to his own words in the quotation scanned here:-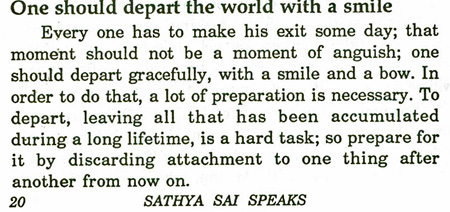 Not only did he cry in public during his last birthday celebration, where he otherwise sat unmoving and stone-faced, but he cried out for help to devotees when being taken off to his own hospital when his final illness overtook him. At no time during his hospitalization was he reported to have smiled, and he was in a coma for most of the weeks leading up to the decision to take him off life support (to coincide with Easter Sunday!). He did not depart gracefully, so his 'preparations through a long lifetime' were futile!

The resurrection that did not happen but is still expected! However, he has died and no resurrection is reported! Still, one should not be surprised if some fantasists claim to have seen him risen and in the flesh... there are plenty of lunatics among the indoctrinated and deluded believers in his self-proclaimed divinity and even his most bizarre and beyond all credibility miracles! Take the story that The Times of India put out as an example of 'fringe lunacy'! How could a major newspaper spread such preposterous rumours (under the cover of 'reporting') as "Baba said he would return stronger"? Answer: because it pulls in a mass of desperately hoping devotee readers and sells the paper very well. It may be also partly due to the shadow of Justice Bhagwati - a corrupt Supreme Court ex-judge who is involved with the Times of India and has for decades been a Sai Baba official too Here is the Times of India's report:-
PUTTAPARTHI: Did Sathya Sai Baba have premonition 10 years ago that he would fall seriously ill? Yes, claim his followers. According to them, Sai Baba had predicted in 2000 that he would be indisposed for 40 days but would come back strong to give darshan to his devotees. This was revealed in a book 'Tapovanam — Bhagawan Sri Sathya Saibaba Satcharitra Nityaparaya-nam' in which the author Jandhyala Venkateswara Sastry has written an essay on Baba's ill-health. Sai Baba had told his students at his Sai Shruti ashram in Kodaikanal in 2000: ''Though most of my disciples fall at my feet, they don't know my real value. A time would come when I would vanish and take a walk across the skies. During that phase, my body would face serious health problems and devotees would be desperately praying for my recovery.'' Devotees in total denial are many, and a book is even published (Sai Kingdom Come) arguing that Sai Baba will return.
VIEW EXCERPT TRANSCRIPTS AND LINKS TO SHORT VIDEO CLIPS FROM THE BBC TV DOCUMENTARY 'THE SECRET SWAMI':-
See a fairly comprehensive documented chronicle of events with press reports etc. from Sai Baba's hospitalization until funeral and its aftermath

The Presenter of the BBC Documentary, Tanya Dutt (Datta) has written the BBC obituary of Sathya Sai Baba here
The Telegraph U.K. 'Sathya Sai Baba's death triggers fight for his £5.5 billion empire' 'Holy Man or Hoax?'
---