Chronicle of events from Sathya Sai Baba's hospitalization until funeral and its aftermath

based on press reports etc. period from 28/3/2011 to 20/7/2011
March 28, 2011
Sathya Sai Baba was admitted to the hospital in Puttaparthi which bears his name, according to one source with pneumonia, according to other sources in connection with a heart attack. Since 2005, Sathya Sai Baba used a special wheelchair because of a multiple hip fracture which was a botched operation. His last appearance in the temple (mandir) was on 22 November 2010. (Remarkable he was not present on 23rd – the date his birthday was celebrated). He last appeared in public March 25, 2011 three days before hospitalization.
April 4, 2011
Unidentified persons who have no direct relationship to the Central Fund of Sri Sathya Sai Baba buy a transparent sarcophagus from Bengaluru-based Kumar and Kumar International, Coimbatore with artificial climate for a hospital in Puttaparthi (according to ibn live) . This was 20 days before the announced death date of Sathya Sai Baba. (Around 1800 GMT April 4 - 2011 there were media reports (eg. on NDTV) that Sai Baba's condition was critical. Private sources reported that his body was not responding to any treatment, and some said he is dead already. One source says he died during heart surgery. (See here) The owner of the company much later saw their product at the time of broadcast of the funeral with the body of Sai Baba's ashram in Prashanti Nilayam in Puttaparthi. See Sathya Sai Baba death date in serious doubt - posted on April 28, 2011)

April 12, 2011
'Docs fret over Baba's sluggish recovery' (see Deccan Herald). The patient's condition remains critical – he cannot eat and is on heavy medication to maintain his vital parameters, so now the sluggish pace of improvement is admitted as worrying the doctors, including Dr. Safaya as "not satisfactory". (See Comprehensive Update on Swami's Health – By Dr. A. N. Safaya lick reports (page since removed)
With expense no object, extra doctors were flown in from here and there by plane and helicopter, thousands of man-hours of work (which has shown no results comparable to the cost) and massive outlays in employing 5000 extra security police to protect the hospital, its staff and its environs. All this is tax exempt and all imports are duty-free, so a further burden is offloaded onto the public. The amount of time, energy and money that is being lavished by so incredibly many doctors – from India and abroad – is an affront to the majority of the populace most of which cannot afford one-thousandth of the treatment value Sathya Sai Baba is getting.

April 16
The Indian press announced: Saibaba devotees move court to know his condition - Times Of India. Of this I wrote: The minders of Sathya Sai Baba – those in control of him – stand accused of a series of inhumane acts from half-starving him to using drugs to affect him. Their motives are considered to be a dark chapter that devotees and some politicians – such as BJP leaders – want to get cleared up, not least through legal process. (Sathya Sai Baba's condition sets off crisis)
At about that time, the Sai Central Trust "came out with a statement on Saturday that Baba was recovering fast and would be shifted to his own residence in about 15 days.
The trust said it was confident of Sathya Sai Baba's recovery within 15 days." (https://web.archive.org/web/20110430014902/http://ibnlive.in.com/news/baba-recovering-fast-will-be-home-in-15-days/149350-3.html)

April 18
On my blog I wrote:- "Repeated statements from Dr. Safaya and the Sathya Sai Central Trust – among others – are worded so as to reassure as far as possible the devotees of Sai Baba. The phrases "satisfied with the response", "parameters continue to be nearly normal", "his condition continues to be stable"  (if critical) make it seem that this critical condition is only just a little away from normal. However, the fact is, Sathya Sai Baba is on a life support system. This almost certainly means that, were all the supportive medical interventions removed, his life would not be supported."
April 20, 2011
A series of increasingly worried – but more realistic – reports from the doctors makes it appear that the great myth about Sai Baba living into his 90s, as he predicted – so his reason "I can finish My Task" - is about to be blown apart. The end is almost certainly closer and closer.
The developing narrative about Sathya Sai Baba, in his critical condition of 'living death', took an incomprehensible and grotesque twist in that the Sai Trust discussed openly the possibility of burying Sai Baba alive! This primitive and superstitious practice from past ages in India, known as 'sajeeva samadhi´ was eventually rejected by the Trust because of the furore it would cause. Its legality is also questionable, even though precedents exist in India!
April 21, 2011
I wrote on my blog:- "For the last 24 hours, the doctors involved have been stating what has been increasingly obvious to non-believers for days and even weeks now. He is near clinical death, some even say he seems to be brain-dead, but neurologists have not been consulted on this. (Why ever not?)"
By some estimates the value of assets of the Sathya Sai Central Trust of up to 8 or 9 billion dollars (Wikipedia states the various estimates: "Sathya Sai Baba founded a large number of schools and colleges, hospitals, and other charitable institutions in India and abroad, the total value of which is usually estimated at Rs. 40,000 crore (US$ 9 billion).[24][25] [26] However, estimates as high as 1.4 trillion rupees (about US$ 31.5bn) have also been made.[27]". Relatives of the Sathya Sai Baba claims to a share of the assets and do not want the right to dispose of this property to be solely in charge of the Trust. There was a series of meetings between family members and members of the board of the Fund, but there was no agreement.
April 22, 2011
The health status of Sathya Sai Baba deteriorated. Cardiac work is supported by an electro-stimulator (pacemaker). It is connected to a respirator and an artificial kidney and artificial liver. In the body, there are pockets of infection.

April 23, 2011
Since the Sathya Sai Baba publicly stated that he would live to 92/3, 94 and 96 years, many devotees expect that he will recover. "He's a god. He will overcome this stage and will once again give darshan. It is my belief. You can not believe, and I believe" - says the secretary of the Foundation of Sathya Sai Baba Mr. K. Chakravarthi." (On this day before the announcement of his death, and knowing the dishonesty of some Trustees, I posted a prediction that it would fall on the next day because it was Easter Sunday and also devotee Sachin Tendulkar´s birthday!, see here Sathya Sai Baba to be 'resurrected' on Easter Sunday?? Posted by robertpriddy on Saturday April 3rd 201!
Starting around 11 am, an important meeting of the Trust was held with members of the Government of Andhra Pradesh and family members. Only about 20 people were present and discussed the proposal that Sai Baba´s nephew Ratnakara, and the current board of directors of the Trust should divide it into two parts: the ashram, and the medical and educational projects. Negotiations were unsuccessful and deadlock followed.

April 24, 2011
The death of Sathya Sai Baba was officially announced. He died aged 84 (i.e. in his 85th year) at 7:40 am local time. The cause of death was given as cardio-respiratory failure. Post-mortem examination was not made and no official death certificate is known to exist. It remains unclear how the death occurred, whether brain death was declared, for the system of artificial life support must have been turned off at some point. By whom – and whether Easter Sunday was in that case cynically chosen - is anyone´s speculation since this crucial point was most carefully avoided by all concerned, including the ambivalent and semi-worshipping Indian press!
If one views all this in the context of the casket being enquired about already on or about the 29th of March…frantically ordered by 3 am, through multiple phone calls ( April 4th/5th), and that the so-called "sanjeeva samadhi" (burial alive) reports surfaced by April 20th, the sequence is logically consistent with the strong suspicion that Sai Baba was already dead.
The Times of India reported that followers claimed that Sai Baba had a premonition 10 years ago that he would fall seriously ill, that he would be indisposed for 40 days but would come back strong for his devotees (Baba said he would return stronger, claims book)

Dr. Safaya of the Sathya Sai Super-speciality Hospital, Puttaparthi, signed Sathya Sai Baba's death certificate but it was not legally valid Dr. Safaya resigned his post almost immediately, his suggestion was that he was forced into a role which he could not accept. The Dutch academic, Chris Dokter, posted this information on his website 'Mind Your Mind' under The Case of the Missing Death Certificate. The certificate above was published widely in India on 24/4/2011. The Indian media company NDTV posted a copy of it and a comment was made on this by Dr. Soumitra Mukhopadhyaya (24-04-2011). See also a full account here.

April 25, 2011
Sathya Sai Baba's body was put on display in a transparent casket in the Mandir for the funeral, scheduled for Wednesday, April 27. This is 20 days since the same casket was ordered from the manufacturer! (See details from Indian newsoutlet here)
In Puttaparthi rumors that a will and testament of Sathya Sai Baba exists, according to which Satyajit should become the head of the fund. Satyajit was near Sai Baba throughout of his illness because he was highly trusted by him like no other person.

April 26, 2011
The State Government strengthened the security measures of all members of the board of the Sai Central Trust, as there is a threat of physical elimination of some people who were close to Sathya Sai Baba.
Prime Minister Manmohan Singh and President of the ruling Congress Party Sonia Gandhi arrived in Puttaparthi. They spent about one hour there. After their departure, public access to the body of Sai Baba was stopped. Prashanthi Nilayam ashram is closed to followers in preparation for the final burial ritual. Only a narrow circle of people close to Sai Baba will be present at the funeral itself. The Times of India published an article ' Threat to life of Sai Baba's caregiver and personal doctor. (original URL http://articles.timesofindia.indiatimes.com/2011-04-26/hyderabad/29474241_1_sai-baba-prasanthi-nilayam-sources-sathya-sai-central-trust)
April 27 2011
The body is in the position of a sleeping man. Hindu ritual rites of burial by the nephew of Sathya Sai Baba Ratnakara. Satyajit was not present. As a public honors a volley salute was fired of by 21 armed policemen.
The Sathya Sai Central Trust gave an hour long press conference. As usual it was marked by bland unsubstantiated statements meaning nothing, with no supplementary questions allowed. The press corps left very unsatisfied with the Trust for not answering questions, see The Chandigarth Tribune
April 28, 2011
Despite the fact that Satyajit promised after the funeral to announce the will of Sathya Sai Baba in the presence of counsel, the Sai Central Trust announced at a press conference that Sathya Sai Baba left no will, that Satyajit was not a board member of the Trust, which will soon elect a new Chairman instead of deceased Sai Baba. The Trust also claims that up to now the right to sign financial documents belonged only to Sathya Sai Baba himself.
Indian ndtv-com report:- The rumour about Sathyajit taking over caught fire again when trustee and former Chief Justice of India P N Bhagwati indicated that he would support Sathyajit in the internal power battle. Adds the source, "Some of the trustees, like Bhagwati, support Sathyajit because Baba appreciated the selfless devotion with which his ardent devotee served him. In fact, in one of his discourses last year, Baba indicated that Sathyajit should inherit his legacy." The state government has washed its hands of the issue and left the decision to the Sai Trustees. (ndtv.com:- Sai Baba's Trust: Family member or devotee as head?)
May 1, 2011
The Sathya Sai Central Trust accepts the proposal of the famous cricketer Sachin Tendulkar to set the golden statue of Sathya Sai Baba in place of his burial site in the Sai Kulwant Hall. The question of who will be the chairman is postponed until May 7-8.
Besides, the press gives conflicting lists of the names of those who are trustees (which title is used indiscriminately also as 'directors' or 'board members' or just members), some including persons who were never members at all. Who is and who is not on the changing board of the Central Trust is debatable, nor has the Trust made this clear anywhere.
The Central Trust appoints Satyajit to be responsible for the fund supporting Vidya Vahini, which was founded in 2010. It is an educational foundation that takes care of 99 schools in India and 33 overseas schools.

May 5, 2011
At the board meeting of the Central Trust Sai it was decided that the right to sign financial documents will devolve on three people: industrialist V. Srinivasan (V. Srinivasan remains on Sai Trust), former Vice-Chancellor of the SS University, S.V. Giri and nephew R. J. Ratnakara (http://robertpriddy.wordpress.com/2011/06/30/sai-trust-not-yet-transparent-despite-ratnakars-bluster/). The document will be valid if they are at least two of their signatures. The Chairmanship of the Foundation in perpetuity was assigned to Sathya Sai Baba!

May 11, 2011
Satyajit, the closest aide of Sathya Sai Baba, who was with him all the time of his illness until his death, announced he is leaving the Puttaparthi ashram and moved to Dharmakshetra in Mumbai.

May 31, 2011
Former Minister of the Government of Andhra Pradesh TDP (Telugu Desam Party) Nagireddi expresses determination to begin an indefinite hunger strike if the Central Fund of Sri Sathya Sai Baba did not unveil all the medical information about the illness and death of Sathya Sai Baba. He blames the Central Fund of involvement in the death of Sathya Sai Baba. The Foundation promised to publish data for June 16.

June 6, 2011
India Today reported under the title 'Can Puttaparthi Survive?' that it was in danger of becoming a ghost town. No business was being done at all at present.

June 16, 2011
At 8:30 am on a committee of accountants, tax specialists, bankers and members of the Central Trust Sai opened their doors two-storey building called the Yajur Mandir, where the private rooms of the PRS. These rooms were closed immediately after admission of the PRS on March 28, and there was only Satyajit access. Next day, most Indian media reported the discoveries, such as the Indian Express:"The assessment was done in the presence of retired judge of Supreme Court A P Mishra and retired judge of Karnataka High Court Vaidyanatha."

Inset below is an overview of the official report by the Telegraph (Calcutta) on
what was found in all Sai Baba's rooms. (Note: other reports differ, sometimes listing more, sometimes less)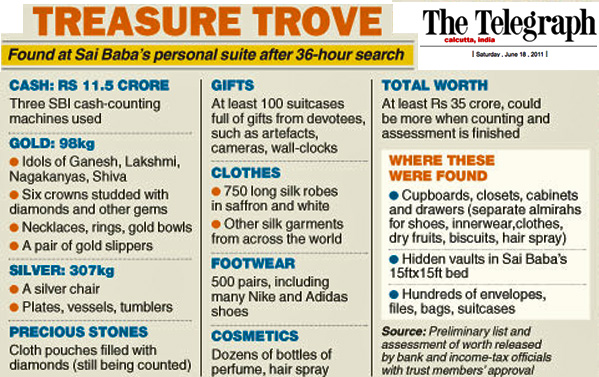 June 18, 2011
Andhra Pradesh Police stops the car, which found 3.5 million rupees in http://www.rediff.com/news/report/lakhs-seized-from-sathya-sai-trusts-vehicle-spark-controversy/20110619.htm cash. In connection with the incident three people were arrested, including one Shekhar, the personal driver of a board member of the Central Trust Sai Srinivasan.

June 19, 2011
Police District Anantapur (Andhra Pradesh) was arrested on a bus two people who were transported under the guise of ordinary passengers 50 million rupees in cash. All this happened about 12 km from Puttaparthi. Police assume that the money could be smuggled out of the ashram of Sathya Sai Baba Prasanthi Nilayam. Rediffnews reported 'Lakhs seized from Sathya Sai Trust's vehicle spark controversy'.
The New Indian Express reported (http://www.highbeam.com/doc/1G1-259283564.html) "Prashanti Nilayam had for long engaged a jeweller in Bangalore to make gold and silver ornaments which the Baba used to "materialse" as presents to his devotees."

June 20
Yet again funds were apprehended by police acting on a tip-off as they were being spirited away from Puttaparthi. Times of India reported "Anantapur police on Sunday morning recovered at least Rs. 5 crore stuffed in two gunny bags from a government-owned Puttaparthi-Bangalore bus." (http://articles.timesofindia.indiatimes.com/2011-06-20/hyderabad/29679002_1_cr-cash-anantapur-puttaparthi-bangalore). "…the cash was reportedly given by Trust members V.  Srinivasan and R.J.  Rathnakar at Santhi Bhavan to Srinivasan's driver Sekhar, who handed it over to Harishnanda Shetty, an engineer involved in the construction of Baba's Maha Samadhi, to hand it over to an anonymous person in Bangalore."
June 21
The Times of India reported June 21 under a heading: Sai Baba's niece claims threat to life from Trust members (http://articles.timesofindia.indiatimes.com/2011-06-21/india/29683276_1_eeswaramma-baba-devotees-sai-baba) The article included the following:- "Sources said several family members and relatives are livid at the way the inventory was carried out inside Yajur Mandir. Pointing their fingers at senior Trust member V Srinivasan, they alleged that he was responsible for barring their entry into Yajur Mandir. Shravan, brother of Chetana, demanded a fair probe into the cash seizure muddle and the alleged shifting of valuables and cash from Yajur Mandir. "Police should conduct a thorough probe in this regard as lakh of Baba's devotees are hurt by the series of allegations involving the Trust," he said."
June 22, 2011
Isaac Burton Tigrett, former 'Hard Rock Café owner from Tennessee, USA, and a well-known follower of Sathya Sai Baba, made a startling announcement that he is a "living testament" to the will of Sathya Sai Baba. He said that Sai Baba gave him many very detailed instructions on how matters were to be managed by his ashram after his death, including incredible designs by SB of "metaphysical machines" that would benefit humanity etc. He offered to unveil these secret instructions to the Sai Organisation at the international meetings at Gurupurnima, July 15. (In the even he was not invited to talk, nor did he release further information afterwards).

June 23, 2011
In connection with the recent arrests by the police of large sums of cash, allegedly illegally exported from Prashanti Nilayam, the Government of Andhra Pradesh has demanded a financial report from the Sai Central Trust on its holdings and status. (This also proves that government was in total ignorance of the Trust's assets and dealings)

June 24, 2011
In order to achieve greater transparency in the activities of the Sathya Sai Central Trust, the Andhra Pradesh government denies it 16 privileges it had held for decades. In particular, it will have to submit reports on income and expenditure to the state government at least once every three years, to account for assets and property, and to submit to an annual audit by the government, supervision by the tax department and an annual report on profits and losses. Also, the Trust loses the right to sell their real estate, intellectual property, books, movies and music without the knowledge and consent of the competent authorities in state government. At the same time the government preserved the Trust's long-held privilege of exemption from VAT, the tax on buildings, commercial tax, registration fees, customs and import duties on medical equipment, subsidies and on electricity.

June 25, 2011
Dozens of traders and entrepreneurs in Puttaparthi closed their shops and offices and took to a street demonstration in connection with the charges of the Central Trust in the possible accounting fraud. They required state government to take the Trust under its control. They fear that the decline in the reputation of the Trust will adversely affect their businesses.

June 28, 2011
The Central Trust is holding a press conference, and a press release is posted on the official site. The total cost of property found June 16 in the rooms of Sathya Sai Baba is equal to about 300 million rupees. The Fund shall pay the amount of tax from the property of 95 million rupees, which could be recovered.
According to a board member of the Central Trust, V. Srinivasan stated that the Fund has paid income tax, even though no one demanded from him, saying the intention of the Fund was to follow the letter of the law.
On June 18, police arrested persons carrying 3.5 million rupees. The Trust claimed that these do not belong to the Fund since the money was given by devotees for the construction costs of a Mahasamadhi (tomb) to be raised in Prashanthi Nilayam. This is endorsed by members Ratnakara and Srinivasan. All proceeds to the Fund and all payments to the Fund are claimed to have been made only by check, or other transparent financial transactions.
Former Chief Justice P.N. Bhagwati leaves membership in the Fund in connection with the transition to the post of Chancellor of the university.

July 2, 2011
Anantapur district authorities conducted an additional inspection of the premises of the Yajur Mandir of Sathya Sai Baba. They found more unrecorded value, gold, silver, diamonds, etc., amounting to about 7.7 million rupees.

July 3, 2011
Police are almost certain that the 3.5 million rupees donations are not committed to building the mahasamadhi, as stated by the Central Trust. Police find that the documents provided by 12 devotees show the dates of withdrawal of the money from bank accounts were about six months ago. At the same time, the dates on the documents attached to the actual cash show that the monies were removed from the accounts of various banks in the period from 2007 to 2009. Police did not rule out that it may be sufficient grounds for institution of criminal proceedings against two members of the Fund, Srinivasan and Ratnakara for financial fraud and forgery. Police questioning involves the 12 Sai Baba devotees who had been declared as donors of the money. (Also see this in the Deccan Chronicle for July 29, 2011 http://www.deccanchronicle.com/channels/cities/regions/anantapur/seized-satya-sai-cash-not-trustworthy-police-49)
Here is an overview of the official report by the Trust of what was found in all Sai Baba's rooms. (Note: other reports differ, invariably listing more)
Valuables discovered during inspections of SSB's rooms. (based on press releases by SSCT - http://www.srisathyasai.org.in/Pages/Announcements/announcements.htm)
Date, place

Cash*

Gold

Silver

Total**

Tax

16th and 17th June 2011, Prashanthi Nilayam***

115,6 million

98 kg

307 kg

300 million

95 million

2nd July, Prashanthi Nilayam

Nil

0,9 kg

(1,6 million)

116 kg

(5,8 million)

7,7 million




18th July, Prashanthi Nilayam

19 million

34,5 kg

340 kg







19th July,

Prashanthi Nilayam

3,7 million

1,6 kg

1162 kg







20th July,

Brindavan

8,1 million

6,1 kg

245 kg




48 million
* - In Indian Rupees (INR)
** - including precious stones
*** - official press release of 17th of June cannot be found on the official Sathya Sai Organisation pages but can be found here: http://www.saibabaofindia.com/puttaparthi-Sai-Baba-Chamber-Rs-11.5-crore-98-kilo-gold-found.htm
1) Print this Page 2) Use right click here - then 'Open page in new window' to translate

Return to index menu