NO VALID DEATH CERTIFICATE ISSUED FOR SATHYA SAI BABA'S DECEASE 24/3/2012
& THE ISSUE OF BURIAL ALIVE (SAJEEVA SAMADHI)

Sathya Sai Baba's death certificate was not legally valid, but it was signed by Dr. Safaya of the Sathya Sai Super-specialty Hospital, Puttaparthi, certificate but resigned his post almost immediately, his suggestion was that he was forced into a role which he could not accept.
Sathya Sai Baba's death was announced on April 24, 20
11.
The Indian media company NDTV posted a copy of this invalid certificate and a comment was made on this by Dr. Soumitra Mukhopadhyaya (24-04-2011) "As a doctor I should point out that the cause of death mentioned (cardio-respiratory failure) is medico-legally unacceptable. The cause leading to cardio-respiratory failure needs to be clearly mentioned. The international death certificate does not accept cardio-respiratory failure as a valid cause of death"

Not producing a death certificate is in strict violation of Andhra Pradesh State regulation, Indian law, and international law. This kind of cover-up attempt is typical of virtually every announcement made through decades by Sai Baba authorities whenever there was anything untoward involved. The 'spin doctors' of the Sathya Sai Central Trust are just continuing a tradition of secrecy... in this case keeping the public from knowing from which illnesses Sathya Sai Baba actually suffered which led to his weight loss (to 28 kilogram) and successive failure of his heart, lungs, liver, kidneys... until he was evidently disconnected from life support in a cynical ploy to make it appear he was akin to Jesus - passing away on Easter Sunday. The resurrection that was  widely expected - in many instances of posted comments on newspapers and web outlets with fanatical certainty - never occurred.
Read on an independent blog The Case of the Missing Death Certificate
The Sai Central Trust discussed a proposal to bury Sathya Sai Baba while still alive, citing some ancient Hindu practice
(April 20, 2011 - 4 days prior to announcement of SB's death)
"Speaking to Deccan Herald, Ananthpur District Collector Janardhan Reddy, admitting that the police have been put on an alert, said: "I have been regularly interacting with the doctors and they have expressed concerns over his condition. We are getting ready for any eventuality." See full coverage here
See also Sai officials' secret collusion over the death of Sathya Sai Baba
---
FORMER ANDHRA PRADESH MINISTER ACCUSES SAI BABA AUTHORITIES OF A MURDER CONSPIRACY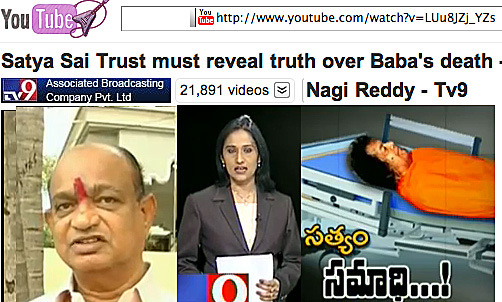 from YouTube (not in English) CLICK TO SEE TV REPORT

Google listing of YouTube video removed through intervention of SSB supporters
YouTube video in Telugu which was removed can still be downloaded from here (original Telugu text as posted at http://thatstelugu.oneindia.in/grapevine/2011/nagi-reddy-accuses-sri-sathya-sai-trust-210511-aid0070.html)
Mr Nagi Reddy alleged that before admitting Baba to the hospital, trust members subjected him to cruelty by not feeding him properly. He said that under the freedom of information act he had filed a request to the trust to provide him details about Sai Baba's hospital admission register, case sheet, and details of treatment administered to him. He said that he would go to court if the information was not provided to him.
The Sathya Sai Central Trust and Hospital authorities have covered up all that happened during the illness and death of Sathya Sai Baba. My informant in Indian has summarized the Telugu statement by Mr. Nagi Reddy as follows:-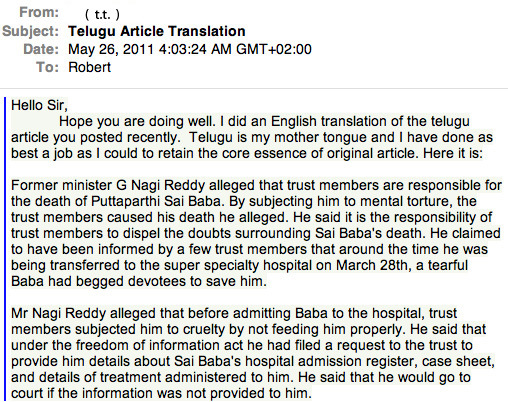 Nagi Reddy has evidently found the power of these people too entrenched to confront further, since nothing was later heard of his request in any media. Why did the Trust with his nephew Ratnakar in a driving seat need to consider whether or not to bury him alive? Because he was still alive and 'refused to die', so to speak, or because he was already dead and they wanted to deny the fact to preserve a sheen of divinity (while conveniently getting rid of him by live burial)?

Alternatively they were faced with an unprecedented situation with the ICU (Intensive Care Unit) - it was announced that SSB was unconscious (much of the time) and probably fully so later on. He may or may not have been brain dead, while his body was still ticking over with all the artificial support systems (heart stimulation, breathing, dialysis and so on). To "disconnect an avatar" from life support has no precedents in Indian scripture, of course. There can be no doubt that the timing of the death was decided by those who were in control (we do not even know who that was, or who took the decision).

The game was given away when it became known via the press that all the complex funeral arrangements at Prashanthi Nilayam were ready for the day (including timing of flight bookings and official visits by dignitaries, the advance massing of security forced and huge police presence etc.).

Dr. Safaya made clear that he resigned his post because he had somehow been unduly pressured, but why and how the public is not allowed to know! Add to all this the lies about the coffin-casket, which was the same one that they had ordered nearly a month before his death was announced. These people are totally unaccountable to anyone  devotees or the public and their credibility has been destroyed in the eyes of any decent people! They are a clandestine gang of deceivers and corrupted persons. See 'Sathya Sai Baba's death and inscrutability' and the case of the casket ordered long before his death
| | |
| --- | --- |
| | |


One comment on Sai Baba's death posted in response to the above,is illumining:-