BURIAL ALIVE OF SATHYA SAI BABA considered by sai trust! (i.e. 'SAJEEVA SAMADHI') SERIOUSLY DISCUSSED!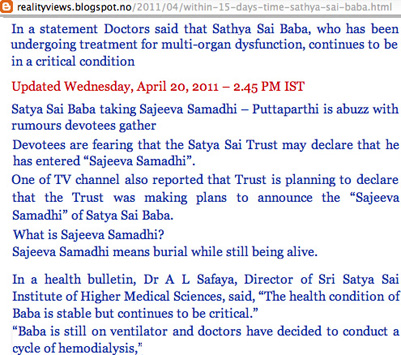 (April 20, 2011 - 4 days prior to announcement of SB's death)
"Speaking to Deccan Herald, Ananthpur District Collector Janardhan Reddy, admitting that the police have been put on an alert, said: "I have been regularly interacting with the doctors and they have expressed concerns over his condition. We are getting ready for any eventuality."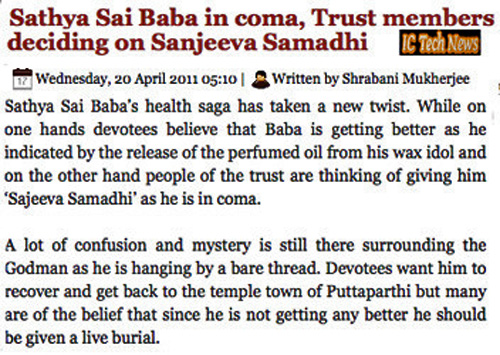 Previously, the developing narrative about Sathya Sai Baba, in his critical condition of 'living death', took an incomprehensible grotesque twist. Several major Indian news outlets – like Indian Express, and India Today – consider this newsworthy enough to publish.
That anyone can seriously even suggest that anyone should be buried ALIVE is so outrageous that one has to say "only in incredible India" could this occur. Yet the history of Indian 'saints', 'godmen' and other supposed holies apparently does actually recognize such an event as desirable– the wilful interment of a living person by his own followers, assuming he has achieved a transcendental state of consciousness (How to know??).
As zeenews.com explains "Sajeeva Samadhi" is the practice of burying enlightened souls while they are still alive. The report about his Samadhi gains credence as members of the Sathya Sai Central Trust held a meeting today to discuss the Trust's affairs in the wake of the Baba's deteriorating health." Knowing the clandestine and deceiving methods of the Sathya Sai Central Trust and most ashram officials, no possibility can be excluded.

What could be the possible motive of such a crime? One thought that springs to mind is that Sathya Sai Baba may already have expired by then and this was a way of disposing of the body while pretending he lives on. Rather far-fetched, but most of the Sai Baba story is like that. The background of all inventions by Sai Baba officials and followers are the demands of the guru that his every word must be fulfilled and his self-declared identity as God the incarnate Deity of all deities must be believed de rigeur by all who wish yo be members of the SS Organisation and eventually the boons he may or may not give in an imagined afterlife. To have to admit that that self-proclaimed God Incarnate died of organ failure without being conscious would be an internal death-blow to the aspiration of many of his institutions, which rely on massive donations for their continuance. It is a matter of jobs and business too… the local areas around the ashrams have flourished while foreigners with fat purses have flocked to see the 'living embodiment'. Could perhaps some have thought it best to entomb him before the government demanded an autopsy on him, then he could then continue to inspire as some kind of once-alive god idol who can 'speak from the grave' to devotees and heal the unhealthy (as Sai Shirdi Baba supposedly does, accumulating vast funds from supplicants to this day).