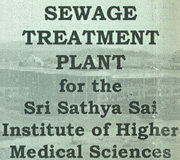 Fund Misappropriated by Ashram Authority

Aimé Levy, President of UK Sathya Sai Organisation until removed as President and relegated to the role of Central Coordinator for UK/Eire (from which he was subsequently dismissed by Michael Goldstein & Indulal Shah), engaged himself in obtaining funds for a sewerage and water supply scheme for Prashanthi Nilayam ashram and surroundings. A team of professionals from around the world (incl. From Canada, UK, and Norway's eco-engineer, Mr. Terje Nedland) worked very hard – hundreds of hours voluntarily - on designing a complete eco-friendly scheme, for which Levy's had collected the funds. The team was at Prashanthi twice in two years the 70th birthday, and surveyed the area with the aid of Colonel Joga Rao, the engineer who undertook many projects for Sai Baba. A large sum of money was duly sent by Levy expressly for the purpose, but it was simply appropriated out of hand by the Central Trust (without so much as asking Levy or the team) for another project – the very expensive Rayalaseema Water Project, which had run into serious difficulties of malfunction, maintenance and funding. The sewerage needs of Prashanthi Nilayam were then 'met' by a cheap Bangalore firm, which dug open cesspits for chemical treatment, which cause most of the ashram to stink to high heaven at regular intervals during hot or windy weather. Who negotiated the cheap fix deal or what personal provision they may have received is not documented.
The Sri Sathya Sai Institute of Higher Medical Sciences (SSSIHMS) is a philanthropic institution based in Puttaparthi, a town in Andhra Pradesh State of India. It is known locally as the Speciality Hospital and was founded by Bhagawan Sri Sathya Sai Baba in November 1991 to provide free medical treatment in the region. It has also become an educational establishment.
The hospital with its current capacity of 350 inpatients and up to 600 daily outpatients caters for patients referred from other smaller hospitals in the region; and currently has plans to expand.
SSSIHMS has become a world famous institution visited regularly by international surgeons and doctors to teach and leam. Some also choose to serve voluntarily for periods ranging from days to months before returning.
New Sewage Treatment Plant
Investigations into sewage treatment at the hospital took place as part of the waste management planning (see Background) carried out in 1995. It revealed that the sewage treatment system (a combination of septic tank and soak-away) serving the hospital was * overloaded, in need of repair and had an unsuitable discharge point. Recent discussions with Dr A N Safaya (the Hospital Director) and Mr K Viswanathan (the Chief Engineer) has established a clear need to treat the sewage within the hospital perimeter before discharging to river or using it to irrigate hospital land. This should be established by building a dedicated treatment plant for the hospital sewage.

In September 1996, Bhagawan Sri Sathya Sai Baba gave His approval to this suggestion.
A cost estimate of the sewage treatment plant (fully installed) is approximately 75 Lakh Rupees; i.e. some £150,000 (sterling). Six companies were invited to compete for this job and the successful bidding company will be chosen in the near future. The Chief Engineer of the Speciality Hospital (Mr Viswanathan) will liaise with the co-ordinator of the project (Dr Mistry) towards its full implementation.
Background

In November 1994 a team of international scientists and engineers volunteered to write a strategic plan for the management of all wastes in Puttaparthi region. Members of the technical team were:
1. Dr P B Mistry, AEA Technology, UK
2. Mr A Slee, Accord Management Ltd, UK
3. Dr P Heaton, HMIP, UK
4. Dr A V Shekdar, NBERI, Nagpur, India
5. Dr B KHanda, NEERI, Nagpur, India

6. Dr S Badrinath, UNDP, New Delhi, India
7. Mr K T Nedland, NWTC, Norway
8. Mr N P Vithal, Prasanthi Nilayam, India
9. Mr A Randeria, Prasanthi Nilayam, India

Puttaparthi has become a multi faith centre attracting pilgrims from around the world, due to the inspiration of Bhagawan Sri Sathya Sai Baba (BSSSB). The team soon leamt that the District and the State governments were already considering the region's sanitation plans. As such the scope was made more specific to the requirements of the Sathya Sai Institutions based in the region. BSSSB gave His approval to start the project when it was presented to him on 28 November 1994. The plan covered the management of clinical waste, sewage and solid waste generated from the Sathya Sai Institutions in the Puttaparthi region.

The institutions included were:
1. SSSIHMS and General Hospital,
2. Prasanthi Nilayam (pilgrim centre or ashram),
3. Vidyagiri (educational institutions), including Sri Sathya Sai Institute of Higher Learning (university).

These institutions have continuously developed in the last four decades and this is likely to continue for the foreseeable future. As such the team examined the existing situation and the likely developments for the next 10-20 years, together with the effects of fluctuating population (during festival times) to suggest appropriate waste management solutions.
The main conclusions reached were that managements of clinical waste and sewage needed urgent improvements; whereas the solid waste, which was managed satisfactorily, would benefit from a better collection practice and recycling. In 1996 the clinical waste incinerator was supplied to SSSIHMS, and it is now fully operational.
The full Waste Management Plan, completed in November 1995, now forms a key guide to all improvements related to waste collection, treatment and disposal of all waste in these philanthropic institutions.

Support from UK Charity
Implementation of improvements suggested in the waste management plan, prepared in 1995, are supported by the UK charity 'Sustainable Waste Management Initiatives" This charity is served by trustees and members; and has a committee to approve and steer projects.
For further information on how to help with the hospital sewage treatment project please contact one of the following:

Dr Prabodh B Mistry
30 Hanson Road, Abingdon, Oxfordshire 0X14 1YL, UK. Tel: 01235 202660

Dr Phil Heaton
17 Millpond Court, Addlestone, Surrey, KT15 2JY, UK. Tel: 01932 821947

Mr Surendra Pitroda
73 Woodmere, Barton Hills, Luton, LU3 4DL, UK. Tel: 01582 650344

Sustainable Waste Management Initiatives (SWAMI); UK registered charity number 1060693.