IN BRIEF SUMMARY, SAI BABA CLAIMED HE WAS THE GOD OF ALL MANKIND DESCENDED INTO HUMAN FORM (I.E. AN 'AVATAR'), THAT HE WAS THE CREATOR OF THE UNIVERSE AND THE FATHER WHO SENT JESUS TO EARTH. FURTHER, HE SAID HE WAS THE LONG-PREDICTED VISHNU AVATAR COME AGAIN, WHOSE TEACHINGS AND ACTIONS WOULD SAVE THE WHOLE WORLD FROM CATASTROPHE. HE ASSERTED THAT HE WAS THE ONE GOD AT WHOSE FEET ALL PRAYERS EVENTUALLY ARRIVE, TO WHICHEVER DEITY THEY WERE ADDRESSED... HE WAS ALL GODS 'ROLLED INTO ONE'

"...in a discourse, Baba said: "It is beyond you to know how or why I create things. The objects that I create, I create them by my will, the same way I created the universe." Quoted in 'The Week' 27th November, 2006. (NOTE: 'Beyond you' here referreds to Mr. H. Narasimhaiah, the former Vice Chancellor of the Bangalore University, who has requested an interview so as to check the facts about how Sai Baba created things.)
The following scan is by his 'official biographer' and close devotee, N. Kasturi, who summed up the extent of SB's claims of Godhead:-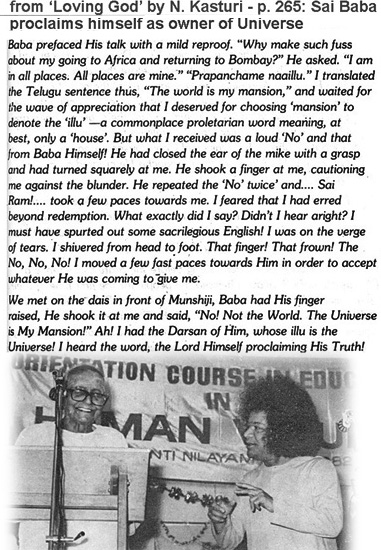 He also told his chief propagandist in the USA, Dr. John Hislop, that he "holds the universe in His Hand" as follows:-



SAI BABA'S ON HIS DIVINITY, MYSTERY, INSCRUTABILITY AND INCOMPREHENSIBILITY
"This is a Human Form is one in which every Divine Entity, every Divine Principle, that is to say, all the names and forms ascribed by man to God, are manifest." (in Telugu the statement was "Sarvadaivathwaswaroopalanu Dharinchina Manavaakarame Ee Aakaramu" and "Fortunate are you, that now, in this very life, you have the chance to experience the Bliss of th Vision of the Sarvadaivathwa Swaroopam, the Form of all Gods in all Forms" ( Sathya Sai Speaks, Volume 8 newer edition, p. 99 see scan of text here- also in the US ed. of Kasturi's Sathyam Sivam Sundaram Vol 3, page 12

Also reported as: "This is a human form in which every Divine entity, every Divine principle, that is to say, all the names and forms ascribed by man to God, are manifest... You are very fortunate that you have the chance to experiences the bliss of the vision of the form, which is the form of all gods, now, in this life itself." (1968 Sathya Sai Speaks Volume VIII. page 99f)

"Know that this Sai form is the form of all the various Names that man has used, and uses now, to identify and adore the One Divine. So I teach that no distinction should be made between the Names - Rama, Krishna, Iswara, Sai - for, they are, all of them, My Name." (US ed. of Kasturi's Sathyam Sivam Sundaram Vol 3, page 10)

"I am all deities in one. You may endeavour your best for thousands of years and have all mankind with you in your search. But you cannot understand My Reality." (US ed. of Kasturi's Sathyam Sivam Sundaram Vol 3, page 315)

"No one can understand my Mystery. The best you can do is to get immersed in it. It is no use your arguing about pros and cons; dive and know the depth; eat and know the taste." (quote inSai Baba: Man of Miracles (1977) by Howard Murphet, p. 208)
"There was no one to understand Me until I created the whole world" (Official direct quote in 'Pathway to Peace' p. 64)

"Sai holds the universe in his hand" (Conversations with Bhagavan Sri Sathya Sai Baba (1993) by Dr. J. Hislop. publ. Sathya Sai Publications and Book Trust, Puttaparthi.) See further documentation of this claim here

"God can do anything. He has all power in the palm of His Hand. My Body, like all other bodies, is a temporary habitation; but, My Power is eternal, all-pervasive, ever-dominant." (Christmas Day Discourse, Bombay 1970. (US ed. of Kasturi's Sathyam Sivam Sundaram Vol 3 page 136)

In answer to critics of his use of magical powers (siddhis): "My powers do not abide in Me a while and then fade away! Indhra jalam idham - All this is apparent manipulation by Divine Will. My Body, like all other bodies, is a temporary habitation; but My power is eternal, all-pervasive, everlasting! This body has been assumed, to serve a purpose: the establishment of Dharma and the teaching of Dharma. When that purpose is over, this Body will disappear, like a bubble on the waters." (Sathya Sai Speaks Vol. X, p. 262) >

"The meaning of Avataar (Divine Incarnation) is this: to save mankind, God out of His love, comes down to the level of man and arouses the Divine Conscioussness in man." (Sathya Sai Speaks Vol. 14, p. 386 - Christmas Eve, 1980)

"On previous occasions when God incarnated on earth, the bliss of recognising Him in the incarnation was vouchsafed only after the physical embodiment had left the world, in spite of plenty of evidences of His Grace. But, ponder a moment on this Sathya Sai Manifestation; in this age of rampant materialism, aggressive disbelief and irreverence, what is it that brings to It the adoration of millions from all over the world? You will be convinced that the basic reason for this is the fact that this is the Supra-worldly Divinity in Human Form." (Sathya Sai Baba 17/5/Vol 8 . Sathya Sai Speaks Vol. 8, p 100)

"If I had come as Narayana with four arms, they would have put me in a circus, charging money for people to see Me. If I had come only as a man, like any other man, who would listen to me? So I had to come in this human form but with more than the human power and wisdom." (US ed. of Kasturi's Sathyam Sivam Sundaram -Vol 3 page 309)

Further, on the task of the revival of dharma, he says "... who has to take it up? It was said that I have taken up this Form in answer to the prayers of sadhus (noble souls) and others... I have come, because I felt I had to come. I resolved upon this... This campaign will succeed, it will not fail. The welfare of the world will be ensured through the fostering of the Godly everywhere, and more particularly of these ancient reservoirs of the ancient wisdom of this land." (Sathya Sai Speaks Vol. 3, page 205)
"The Lord is the refuge of all who seek refuge, the saviour of all who have to be saved. He is the Embodiment of Being-Awareness-Bliss (Sat-chit-ananda). He is now at Puttaparthi as the Effulgent Emperor over the region of Truth, Goodness and Beauty." (Sathya Sai Speaks Vol. XIII, p 114)

"When dharma declines or rather, when those who have a duty to regulate their lives according to dharma lose faith in it, then, its restoration cannot be taken up by all and sundry... The Lord has come again on this Mission. He has collected the engineers and contractors and the labour for this purpose. He is not set on the task."Let me tell you one more thing: Nothing can impede or halt the work of this Avathaara... Formerly when the Govardhanagiri (mountain) was raised aloft by a little boy, the gopis and gopalas realised that Krishna was the Lord. Now, it is not one Govardhanagiri , a whole range will be lifted, you will see!"
(see scan from Sathya Sai Speaks Vol. 3, p. 106)

"My power is immeasurable; My truth inexplicable, unfathomable.""My power is immeasurable; My truth is inexplicable, unfathomable. I am announcing this about me, for the need has arisen. But what I am doing now is only the gift of a 'visiting card!'" (Sathya Sai Baba Discourse 19-6-1974. p. 227 Sathya Sai Speaks Vol. 12)
"For example, there are many who observe my actions and start declaring that my nature is such and such. They are unable to gauge the sanctity, the majesty, and the eternal reality that is me. The power of Sai is limitless; It manifests for ever. All forms of 'power' are resident in this Sai palm." 19 June 1974, p. 226 Sathya Sai Speaks Vol. 12 new ed. and Sathya Sai Speaks IX, 88-92 old edition)

"There is no one who can change My course or affect My conduct to the slightest extent. I am the Master over all." (Discourse (28 September 1960). Sathya Sai Speaks Vol. I, p. 182)

"My construction will cover the entire Universe." (Sathya Sai Baba Discourse, October 1961 p. 120, 'Sathya Sai Speaks' Vol 2) "In truth, you cannot understand the nature of my Reality either today or even after a thousand years of steady austerity or ardent inquiry even if all mankind joins in that effort." 17 May 1968 (Sathya Sai Speaks Vol. 8, p. 99 new edition - Vol VI, 210-213 old edition) "...it is essential that I warn you of another subject also. Do not spend your time trying to understand Me.. It is beyond anyone's capacity to understand Me." Sathya Sai Speaks - new ed. - Vol. 12, p. 311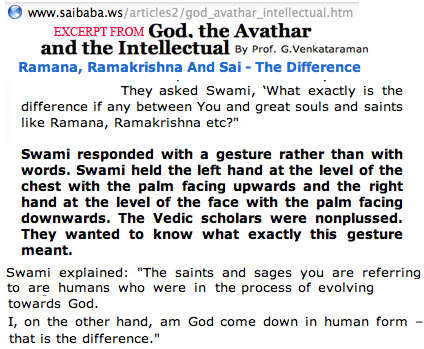 SAI BABA CLAIMS TO BE THE HOLY FATHER OF JESUS
"There is one point that I cannot but bring to your special notice today. At the moment when Jesus was emerging in the Supreme Principle of Divinity, He communicated some news to his followers, which has been interpreted in a variety of ways by commentators and those who relish the piling of writings on writings and meanings upon meanings, until it all swells up into a huge mess. The statement itself has been manipulated and tangled into a conundrum. The statement of Christ is simple. 'He who sent me among you will come again!', and he pointed to a Lamb. The Lamb is merely a symbol, a sign. It stands for the Voice - Ba-Ba; the announcement was the Advent of Baba. 'His name will be Truth,' Christ declared. Sathya means Truth. 'He will wear a robe of red, a blood-red robe.' (Here Baba pointed to the Robe he was wearing!). He will be short, with a crown (of hair). The Lamb is the sign and symbol of Love. Christ did not declare that he will come again, he said, 'He who made me will come again.' That Baba is this Baba, and Sai, the short, curly-hair-crowned red-robed Baba, is come. He is not only this Form, but, he is every one of you, as the Dweller in the Heart.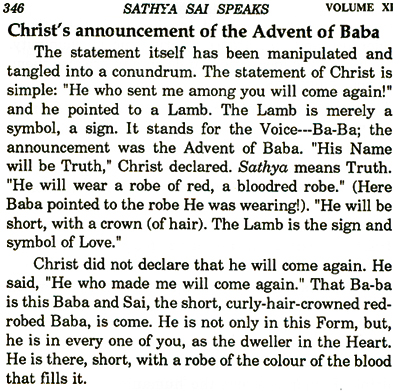 "You must have heard people say that mine is all magic. But the manifestation of divine power must not be interpreted in terms of magic. Magicians play their tricks for earning their maintenance, worldly fame, and wealth. They are based on falsehood and they thrive on deceit, but this body could never stoop to such a low level. This body has come through the Lord's resolve to come. That resolve is intended to uphold truth (sathya). Divine resolve is always true resolve. Remember there is nothing that divine power cannot accomplish. It can transmute earth into sky and sky into earth. To doubt this is to prove that you are too weak to grasp great things, the grandeur of the universe." Forty-Third Birthday Discourse, 23 November 1968. (Sathya Sai Speaks, Volume XI, p. 346 see scan on right. This also appears in 'Sai Baba - Holy Man and the Psychiatrist', by Samuel Sandweiss >.)
(Note: Sai authorities eliminated the above content from their on-line presentation of this discourse, probably due to the ridicule it received See ' http://www.saibaba.ws/teachings/fourdiscourses/milestone.htm)
"The Lord has come down so that those who have won the right to be liberated may be saved, incidentally, others too will know of the Lord..."Sathya Sai Speaks Vol. III, page 30)

"On previous occasions when God incarnated on earth, the bliss of recognising Him in the incarnation was vouchsafed only after the physical embodiment had left the world, in spite of plenty of evidences of His Grace. But, ponder a moment on this Sathya Sai Manifestation; in this age of rampant materialism, aggressive disbelief and irreverence, what is it that brings to It the adoration of millions from all over the world? You will be convinced that the basic reason for this is the fact that this is the Supra-worldly Divinity in Human Form." (Sathya Sai Baba 17/5/1968. See Sathya Sai Speaks Vol. 8, p.100)

"... (the) Atma principle assumes a form from time to time for the sake of redeeming the world and establishing righteousness" (Sanathana Sarathi Sept. 1989. p. 229f and Sathya Sai Speaks Vol. 22, p. 182).