Strange derangements take hold of most Sathya Sai Baba devotees once they believe that he can create and do just anything, that he is what he claims to be, God the Father Incarnate! A surprising number of people believe that Sathya Sai Baba creates many things from nothing, is all-powerful and knows everything about everyone. These include numerous Indian and other heads of state, ministers, judges, politicians, royalty, film stars and some of the rich and famous. His 'creations' are all fairly small (can be held in a hand or buried in a heap of sand) and are most often substances like ash, or rings, medallions, bracelets, necklaces, watches and small statues or the like. These amulets or talismen are believed by thousands who wear them to be a 'hotline' to Sathya Sai Baba because he says and 'sees' what happens to his devotees via them (and he even may communicates by their aid). They also most ceretainly "bind people to him" and they can see him in some of them as a vague silhouette! Amusingly, this claim by Sai Baba is that his rings that work in much the same was as the rings created by Dark Lord Sauron in Tolkien's famous fiction 'Lord of the Rings'!

"Whoever you are you are Mine. I will not give you up. Wherever you are you are near me; You cannot go beyond my reach."
says Sathya Sai Baba ("Gems of Wisdom" Quotations from Bhagawan Sri Sathya Sai Baba" - page 358)
"One Ring to bring them all, and in the Darkness bind them" (the inscription by Sauron - 'The Lord of the Rings')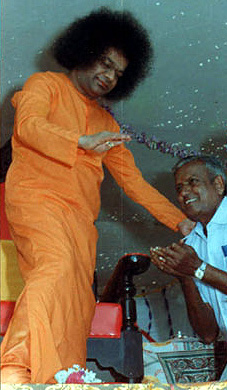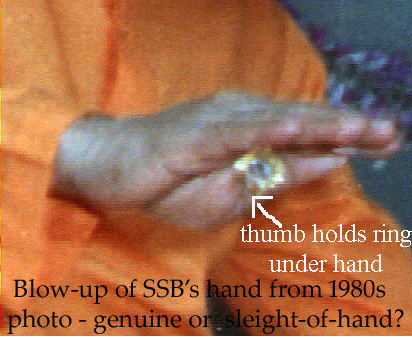 THE APPARENT 'MATERIALISATION' SHOWS A STANDARD SAI BABA RING (EITHER SILVER OR PANCHALOKA AMALGAM OR SOMETIMES 18 CARAT GOLD) WITH AN ENAMEL FACE SHOWING HIMSELF. THIS PHOTOGRAPH IS ACCEPTED BY MANY DEVOTEES AS PROOF POSITIVE THAT SAI BABA IS ACTUALLY MATERIALISING IT. THE ORIGINAL OF THE PHOTOGRAPH CANNOT BE SEEN TO HAVE BEEN TREATED, AIR-BRUSHED OR ALTERNED IN ANY OTHER WAY.O.K. SO FAR... BUT ALL THIS PHOTOGRAPH ACTUALLY SHOWS IS A RING UNDERNEATH THE HAND, MOST LIKELY HELD IN PLACE BY THE THUMB! Such an extrordinary claim as being able to freate or fetch such objects from nothing requires equally extraordinary proof, but the photograph cannot be said to show more than a ring attahed to his hand, which would be normal in sleight-of-hand deception.

IT IS KNOWN THAT SAI BABA IS SUPPLIED WITH THESE KIND OF RINGS BY VARIOUS JEWELLERS IN BANGALORE, ANANTAPUR AND MADRAS. HE KEEPS A STORE OF SUCH JEWELLRY IN A BOX IN HIS INTERVIEW ROOM - ACCORDING TO THE TESTIMONY OF A CLOSE STUDENT KNOWN WELL TO EXPOSÉ ACTIVISTS, BUT WHO DOES NOT WISH TO BE NAMED BECAUSE OF THE SERIOUS CONSEQUENCES HE IS SURE WOULD FOLLOW FOR HIM THROUGH HIS BROTHER, WHO IS STILL STAYING IN SAI BABA'S ASHRAM. NUMEROUS OTHERS REPORTS, SUCH AS FROM CONNY LARSSON, INDIAN STUDENTS AND NOT LEAST A FORMER CENTRAL COORDINATOR FOR U.K. , Mr. AIME LEVY AND HIS WIFE SANDRA, REPORTED TO ME HOW THEY SAW SAI BABA REGULARLY TAKE RINGS AND TRINKETS FROM THE SEAT OF HIS CHAIR BEHIND HIS BACK DURING NUMEROUS OF THE LAST OF THEIR 28 INTERVIEWS. (At that time the Levys considered it worrying, but nonetheless acceptable because of the joy it gave the visitors they brought there in groups from the UK. One should realise that the process of rejecting Sai Baba after decades of belief and indoctrination is necessarily slow and fraught with all kinds of mental, emotional, social and other problems.)

One clear example caught on video of SSB reaching behind his cushion while directing people's attention elsewhere is found as a mov file here(12.4 Mb download -playable on Quicktime etc. ) (otherwiese as a wmv (Windows) downloadable 3.8 Mb file. A range of short movies found on films intended to promote Sai Baba show similar palming or fraud, see http://www.exbaba.com/movies.html)
According to an e-mail I received from a student (I know him to be genuine, but his name is suppressed at his request for his safety), the rings and other baubles have been supplied to Sathya Sai Baba by a certain inconspicuous Indian 'gentleman' for many years who has been identified by students as the go-between to suppliers for SB… he was seen to walk regularly into the interview room through the crowd and depart later on! Another informant states that he was man of a middle stature - around 5ft. 6in. with a neatly combed bit of a curly hair and dark glasses, wearing white safari suits and a gold watch and bracelet. He was observed by one student I know well to go regularly into the interview room and would not talk with the people at all.

Sathya Sai Baba claims that he can turn earth into sky and vice-versa, that he contains all powers in his hand and knows everything about everyone. It is extremely difficult to sort the fact from the fiction for his devotees because of the secret culture of secrecy and deception surrounding him, even after decades of visiting the ashrams and getting interviews. Very few get close enough or the access to find out many hidden facts! But in 20 years your present author happened to do so. I also got a major jewel expert to test his of a supposedly materialized "green diamond" ring and found it to be a synthetic sapphire worth very little and of a type on sale very cheap all over South India and on the Internet. See also other such fake Sai Baba "green diamonds"
A main issue is whether Sathya Sai Baba (born Sathya Narayana Raju) is has performed major miracles attributed to him through the past 70 years. These incidents do have some real basis in experience, as I have testified in my book 'Source of the Dream' and there remain many more incredible claims by him to which any follower has eventually to relate, whether to accept or reject them. Amazingly many persons soon surrender all wit and reason and believe literally anything Sai Baba says, however contradictory, however unlikely or totally impossible. One even believes most of the hearsay about him without taking any trouble to investigate it. The belief in miracles is ostensibly not central to the Sai Baba story as a whole, if we are to believe him. However, he insists on them and they come as an unavoidable part of the baggage… The key beliefs and hopes that help attach more than a million people to him are for personal salvation, 'healing', and liberation in the afterlife. It cannot be denied that Sai Baba is credited by personal testimonies with inexplicable healings, 'miraculous' interventions and inspiring people to a lot of good works and service of others... However, this is still the very deceptive bright side of his other more than unfortunate activities, the deceptions and abuses at the core of the legend about him and his mission, which has many appealing aspects for many people.
Various film clips are available on the web and in TV programmes showing and explaining how Sai Baba apparently carries out sleight of hand while producing allegedly 'materialised' holy ash (vibuthi). The skeptics claim that Sathya Sai Baba conceals small pellets of vibuthi -usually in his left hand - and transfers this to his right some time before appearing to grasp it from mid air and pouring it into waiting hands. I am not pre-judging the issue, but I have become convinced at the very least that Sathya Sai Baba does use legerdemain and appears to do so in certain productions of vibuthi. If the ash is compacted into a pellet, it has to be crushed to be delivered. This crushing is visibly done every time in Sathya Sai Baba 's right hand, between his thumb and first two fingers. This is supported by the following small selection of many such pictures:-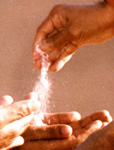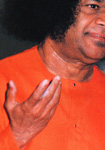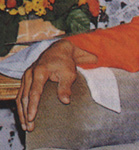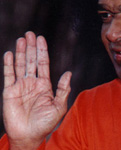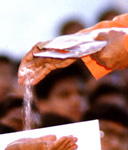 Numerous testimonies that Baba dropped vibuthi pellets in front of former devotees, and also that he had, in the private interview room, a vibuthi pellet 'machine' which compressed the powder with water. Previous photographic or video evidence of pellets (between his fingers etc.) were sparse and not so clear. The video which has emerged on YouTube removes all possible doubt that he crushed pre-prepared pellets and did not materialise those. See two still captures of the dropped pellet:-



To view a short clip with the important footage of the above, go to https://www.dropbox.com/s/ain9opy4r1nzssi/Vibuti%20pellet%20drop.mov?dl=0Â It looks as thought, having dropped the vibuti pellet, Baba quickly drops letters as well so a lady picks it all up (seems to be aware of the situation). Baba looks worried and then tried to avert people's attention. Sathya Sai Baba drops Vibuti Pellet at darshan. Baba drops the pellet and its fall is very clearly visible. This occurs at 1.03 secs. into the video at https://www.youtube.com/watch?v=HBilntPmlqE&feature=share
f the vibuthi is not in pellet form, there is not reasonable explanation as to how else he would be able to hold it back and control exactly when it shall drop from his fingers. Further, my wife has noted how vibuthi she has received from him in interviews was not entirely smooth, it usually contained large grains or small lumps.
One clip from the Danish film 'Seduced' shows a fairly clear view of his use of such a pellet under Sathya Sai Baba 's upraised hand before he 'creates' it. Moreover, the former 'veranda person' and Central Coordinator, Terry Gallagher, reports having seen Sathya Sai Baba drop three such pellets by mistake in front of him on the veranda!
The concealment can also be done in a handkerchief, such as he very frequently holds or handles, not least after each 'materialisation'. In most photos of Sathya Sai Baba in his various thrones and chairs, it will be seen that his left hand is infrequently holding or is very close to a handkerchief (much less often than his right hand is). A handkerchief is one of his chief accoutrements in most situations. For many years, Col. Joga Rao used to hand him the handkerchief and carry the letters when required. Since Joga Rao is know never to have believed in Sai Baba's miracles but to have agreed to help him nonetheless, there is all reason to suspect he was a willing accomplice. For many years he arranged the interview room before and after Sai Baba gave an interview. It is almost certain that he placed vibuti pellets on top of the electrical switch and fuse box inside the door up on the left (in the Prashanthi interview room), where Sai Baba always went to turn on the lights, soon thereafter apparently 'materialising' vibuti for all the ladies present. Sathya Sai Baba can obviously most easily find willing accomplices among his close servitors, students, permanent family and other Indian residents and even some 'tried and tested' foreign believers... the massive cover-up of Sai Baba sexual abuses and secrecy about his involvement in the killings episode prove this beyond any reasonable doubt.
The concealment can easily occur in other ways: when an interview begins he is known always to switch on the room lights and - as required, also the fan, reaching high up to a switch-box on the wall inside and to the left the door of the Prashanti interview room. I have seen him do just this on four occasions. He is known invariably to 'make' vibuthi just after this action, only for all the ladies in the interview. This requires a fairly large pellet, of course, and that can be concealed on top of the switch box, which is not visible to a standing person. Of course, since he is also in and out of his smaller 'private' interview room, he could easily replenish his supply of pellets from there, where there is some furniture etc. where such could easily be kept. A former friend of mine, now-deceased, Mr. Leo Boogaard (formerly National Coordinator of the SSO in the Netherlands and later a member of the Dutch Parliament), once received vibuthi in the darshan lines at Puttaparthi when I was with him, which was literally wet. It slopped into his palm. This tends to support the claim made by some magicians who have studied Sathya Sai Baba 's methods, that he also sometimes conceals pellets in his mouth!
Those who cannot believe that Sathya Sai Baba fakes the vibuthi may prefer to think that he is given vibuthi in pellet form by the 'helpers' he has sometimes said he has (and sometimes denied). Or that he has a big store of pellets in some astral realm, or (for those who can't quite credit this) that he apports them from a worldly store somewhere where they are manufactured. However, the town of Palani (near the foot of the Kodai mountain) is one place which that provides vibuthi in huge quantities to Prashanthi Nilayam, as a published invoice clearly shows... so his pellet makers could well be using those products and working in the ashram.
Read the account of how Sathya Sai Baba does his 'materialisations' by an ex-student of Sai Baba's College
See an insightful account of this issue by former President of the Moscow Sathya Sai Centre