Here I summarise some of the indirect and circumstantial evidence which by its nature and extent in general supports the direct allegations on many points of detail. Admittedly, the information collected here does not formally 'prove' Sathya Sai Baba's guilt, being reported allegations (not least since I have never myself been a victim of sexual molestation by Sathya Sai Baba... but then he doesn't seem to have taken a sexual interest in older men). But the reports are so numerous and include accounts by victims, their families and friends plus other reliable persons, that they strongly support the contention that Sathya Sai Baba is a major sexual abuser. In the main, I present information that came to me during the course of my time as a devotee and during my subsequent follow-up of such incidents. For the record, I am willing to swear on oath that what I write here is true to the best of my knowledge, being as accurately stated as I can make it, and that I have investigated and cross-checked all facts to the utmost of my current faculties and facilities
Why do so many young foreign boys given much attention almost invariably leave Sai Baba? Through the years I saw, on numerous occasions, that Sathya Sai Baba selected for very frequent interviews certain young men from 16 to 20 years old from Scandinavia , the USA and Germany who I knew or was acquainted with. They would often be invited on their own without the group they belonged to and would get private interviews each time. All of them received gifts like rings, bangles or watches etc. from Sathya Sai Baba. This was puzzling, but the classic explanation was that Sathya Sai Baba knows the karma of everyone and he fetches these young men because of their merits (or also certain 'demerits') in past lives both to protect them and possibly 'correctively punish' them... all so as to sow the seeds of spirituality in them. However, I found that those who I came to know fairly well were all already spiritually inclined, often very much so. The more surprising it was to note that, one after another, these much 'blessed' young men soon fell away from the Sai movement altogether and were never seen again at the ashrams. Devotees lost touch with them altogether. Who could possibly understand this? The minds of followers are heavily programmed by Sathya Sai Baba teachings to think "we cannot understand everything, probably we cannot really understand anything... and especially where Sathya Sai Baba is involved." The fall-off of followers, especially young men who have been feted by Sathya Sai Baba, was a subject of discussion among many devotees (esp. prior to the public furore), which can also be noted in various accounts by writers of pro-Sai books.
At our various interviews, my wife and I have seen Sathya Sai Baba choose a male youth to sit close to him on nearly every occasion, whom he strokes, claps, slaps and fondles on and off throughout the couple of hours. Being fully signed-up believers in Sathya Sai Baba then, we did not regard these as signs of homosexual behaviour with Sathya Sai Baba. However, a Norwegian journalist - Hilda Wright - who we later met and who has relocated to South Africa, told how her unmarried partner was taken into a private interview without her (in the late 1990s), and that she had seen Sathya Sai Baba grab surreptitiously at his genitals twice as they came out into the main interview room, which fact her partner had confirmed to her. One of the latest accounts of this such crudity by Sai Baba is by one of the young men - Gabriel M. - who accompanied the famous actor, Conny Larsson, to visit Sai Baba before they became fully aware of his fraudulence. His account is also available on-line. The son of Britt-Marie Andén, Jesper Andén, has also spoken out about untoward behaviour in private by Sai Baba "Several of my male friends had been to private interviews and I knew that he had oiled their bellies and penises..." and "what he did was come directly up to me, hug me and put his mouth to my mouth and kissed me. All of the good feeling I had in my heart changed to thoughts like 'what is he doing?'"
One of the several known Scandinavian victims was a very young man from Sweden (nicknamed 'the golden boy' due to the many trinkets 'materialised' for him by Sathya Sai Baba) whose revelations in 2000 caused a serious decline in the following in the Swedish Sai Organisation and were also the occasion of Conny Larsson finally making known to all his own history of long abuse by Sathya Sai Baba. A Sai Organisation meeting of leaders and active devotees was held in Stockholm where the 'golden boy' and another boy told of the repeated and serious molestations they had suffered at the hands of Sai Baba. Among others, the President of the Swedish Sai Organisation and leader of the Sai school in Gothenberg, Britt-Marie Andén, whose son was also molested sexually by Sai Baba, closed down the school and left Sai Baba altogether. Her son, Jesper, made public his account on the Internet some years later. The National Coordinator for Education in Human Values, Magnus Vrethammar, a long-serving and founder devotee in Sweden also formally resigned with his wife - Britt-Marie Andén - who had written two books on Sai Baba in Swedish and was then ready to publish a third.
Another Swedish boy I knew quite well from several visits to the ashram - he was active in the Organisation too - had a dozen interviews in a brief period... and some say he had many more within a few weeks before he left Sathya Sai Baba and the organisation, despite the lavish attention he received, (i.e. fairly evidently precisely because of it!) That boy sat close beside Sathya Sai Baba at interviews (my wife and I also observed this) and was constantly touched and handled in various ways by Sathya Sai Baba as he sat there. Sathya Sai Baba nicknamed him 'the coconut tree' because he was very tall. I also met in Prashanthi in 1992 a third Swedish boy in his late teens with a group mainly from Gothenburg and he was in a very evident state of confusion and withdrawal already after his first private interview with Sathya Sai Baba, which I found most extraordinary then but which I now realise could well have been due to sexual molestation.
In another instance, a young man from who was a very active worker in the Sai Organisation and whom I knew well from Prashanthi and visited me in and told me that Sai Baba kissed him voluptuously on the mouth when alone with him inside the private interview room. I did not believe him! He had also removed the silver ring Sai Baba gave him (with Sathya Sai Baba's own image on), which my wife and I could not understand at all. He did not say why! He had already apparently put Sai Baba behind him, and probably was hoping I would hear him out.. He did not then tell me of oiling of his genitals, for I was too convinced a devotee, but a friend who contacted him years later reported that genital oiling was also involved, but also that he did not wish to make a public statement about it, though he had been the most active seva worker in Denmark prior to that. Another young man from Denmark gave an account of visiting Sai Baba in 2002 to find out if the allegations could be true. He was invited to a private interview and was genitally massaged himself, whereupon he posted his account on the www.exbaba.com exposé website. He later withdrew his account, having expressed to me his anxiety of the reactions he met from his contacts and by other consequences he feared. A tall, dark young man in his early 20s from Germany whom I met at Prashanthi Nilayam around 1990, and whom I saw called to 5 interviews within about 2 weeks and who received a gold(?) ring from Sathya Sai Baba, was never seen or heard of subsequently. I do not publish the names of the above persons since I do not have their permission, which I must say I understand, however regretful it is that they feel unable for one reason or another to stand forth.
I have also heard from three long-standing friends of incidents that support these allegations which they happened to have heard about from the persons involved. These reports, often thought peculiar or even doubtful at the time, became all that much more significant after the main wave of allegations broke, because they fitted the general pattern and added weight to the credibility of the exposé. Another good friend of ours, a Norwegian (Tor Fotland), who visited Sai Baba several times with his Rumanian wife Felicia Fotland, upon hearing about the allegations told that they knew a male Italian devotee who had told him how Sai Baba had handled his genitals.

I also knew well an American lady, Marge Hendel, who had been a Sai follower for decades, and who lived in Oslo for several years, who told me that some of her US friends had brought their young son to Sathya Sai Baba sometime before the 1980s, but had left permanently when he had taken down the boy's trousers alone in private and massaged his genitals with oil. I had discounted this at the time as being either untrue or, at best, perhaps some kind of spiritual treatment. Only in view of subsequent very credible-sounding accounts, of which there are too many to disregard, do these other incidents appear noteworthy, to say the least. Though these second-hand accounts may be presented by some who are keen to ignore them as 'mere hearsay', I regard them rather as part of the ever-mounting mass of circumstantial evidence coming from all kinds of identified and unrelated persons around the world.
The long-serving US devotee, Al Drucker, who lived at Sai Baba's ashrams for well over a decade, was later forced in 1992 by Sathya Sai Baba to leave them 'for ever' and was banned completely from the Sathya Sai Organisation. According to an US lady who was present at the interview in Sathya Sai Baba's costly residence Trayee Brindavan and related the details to us directly afterwards, the reason for the ban was that Drucker would marry against Sathya Sai Baba's expressed command. Though I saw Drucker visiting Prashanthi years later in 1998 (somewhat difficult to recognize due to a beard) for the presentations of holy sandals (paduka) ceremonies and my wife and V.K. Narasimhan spoke to him, he has signally failed to come out with the truth about why he left Sathya Sai Baba and his many experiences with very disturbed parents of sons sexually abused by Sathya Sai Baba. This information has come to us (which fact I can document) through two trustworthy friends of ours, long-term former National Sai Organisation leaders, who managed to get Drucker to tell them in private the main reason for his disaffection. They have since withdrawn from Sai Baba. I vouch fully for the veracity of my own account here, which I strongly feel has to be made public not least for the sake of helping warn persons at risk from similar attentions by Sathya Sai Baba or student victims he may have led astray into similar tastes as his own.
The serial abuse of Sai college boys and young men?: Among several ex-students who contacted one or another of those of us who have declared our firm conviction that the evidence is overwhelming, is the Tamil ex-Whitefield student Meenakshi Srikanth. He published a long article describing Sai Baba's homosexual abuse under the title Sai Baba: The Good, the Bad and the Ugly he attests that he was told by many students what they had experienced (and what he fortunately did not suffer) saying:
"Many of these students were made gay ('sodomized' would be an unrefined word) by Swami, who himself is a gay. I did not believe it when they told me this. But not long after, I heard the experiences as narrated by the students who had undergone the trauma themselves. ... lets call him Nandan, always had a grim face as he walked into the bungalow. He never attended classes those days in which he got an interview. I have often seen him show marks in his chest and chin and say things like, "innikku kadichtaarudaa!", followed by a flow of choice words of slang. Nandan often used to get covers from Swami in public and sometimes he would be asked to open it. It would contain crisp hundred rupee notes. There is another word for giving money for such acts.
Nandan was helpless. He could not go home and complain. His family and parents were devotees for 30 years and their very lives have been defined around Baba. Nandan since he knew the world has been knowing Swami and none else as god. He was first initiated into doing this by Swami when he was in school. Swami told him that he (Swami) was the only purusha in the world and the whole world was his wife."'
Another student, who was still under-age when Sai Baba regularly misused him sexually, managed to escape the ashram where his mother still works as a follower to his father in the USA . He posted his account on a message board (need to be a group member to view it) and he was contacted by exposé workers. He did not then wish his name known on account of the safety of his mother, but he was contacted for a filmed interview (with concealed identity) by the BBC (no footage of this has so far been shown). However, his written testimony is now seen here. However, yet another Sai student posted ( 1/10/01 ) on Sathya Sai Baba Discussion Club under "A Letter I Wrote to Sai Critic", the following:-
... beside being "oiled" under the pretense of curing a different problem with a totally different part of my anatomy, I was saved from further sexploitation my en masse defections from the closest relatives who were Baba's choice inner circle for decades who were all victims of his sodomite behaviour. Needless to say, we were vilified as usual and were labelled as opportunists. I don't expect you to believe this or post it on your site but I would appreciate if you sent this to Mr. Murphet. But he is too invested in this for nearly 40 years and I don't expect him to have an open mind after this long. After all, my own father did not believe what happened to me when it happened. Regards,Taken for a ride for 20 years and called the "chaff"
Another young man, an ex-student of Sai education, whose own mother still believes in Sai Baba and works there contacted exposé workers via a bulletin board. He will not publish his name due to his mother's situation. he had to go to court to get the right to leave the ashram and join his father, who now lives in the US. His name is known to some of us in the exposé and he was checked out by the BBC team which made the documentary 'The Secret Swami', who also confirmed this to me.
As an adult I tried to put the past behind me but realised recently that this never really goes away. the shame and hurt still exist especially because at the time sai baba was some whom I felt very close to. His shudders and disgusts me now to think that when I was a teenager he used to stare at me when I went to darshan line. I thought he was blessing me but now I know it was all because he was sexually interested. I was his next victim. I did not begin to speak out until I realised a few years ago that i am not the only person he has abused. He is a menace to teenage boys who are to afraid and ashamed to speak up. Peer pressure from my family made me shut up at the time, but I am an adult now and I can speak the truth.
His full account shows how utterly powerless students are under what amounts to the homosexual slavery regime of Sathya Sai.
In late 1999, a very reliable and highly intelligent friend of ours, Irene Larsen from Norway, who stayed in Brindavan & PN for long periods and also worked for months in the foreigners' canteen in PN, returned to India in 2000 for a long period during which she questioned people about the 'homosexual rumours'. She met a Hungarian lady who lives near Tiruvannamalai in Ramana Maharshi's ashram, an ex-devotee of Sathya Sai Baba who had lived in Prashanthi Nilayam for four years but left Baba permanently years previously due to her conviction of his sexual molestation of young men and boys. She had herself met several young boys who had experienced it! She also told that there had been much talk about Baba as a molester in Sai circles in Hungary and France in two periods - around 1991 and 1995, when many there had left the Sathya Sai Organisation as a result. Irene Larsen also investigated the case of the young men who had worked in the canteen at Prashanthi Nilayam in 1997 for months alongside her.
One of these, a young Australian man, Hans de Kraker, told her in detail about how all the young men in the foreigners' canteen were told to leave immediately one day. Several of them had been speaking about having sexual relations with Sathya Sai Baba. It is almost certain that it was the 'canteen lady' Veronica who reported them to ashram officials, as she was already known to have informed on devotees to the Sai authorities in other connections. It was also known that some of these young men were more or less openly homosexual. They had been fetched by police within hours and driven to Bangalore and told never to return, the reason given being that there was too much association with ladies in the canteen! (A clever slander to mislead attention away from the dreaded subject for Sathya Sai Baba, namely homosexuality!) One of them came back to Prashanthi Nilayam incognito a year or two later, when Irene Larsen ran into him and learned from him of these events.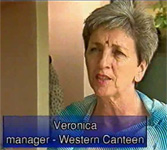 Mr. Ratan Lal is one of Baba's long-term close followers, a resident at PN who held lectures there (incidentally, on a self-defeatingly inconsistent amalgam of Sathya Sai Baba and Ramana Maharshi's teachings, which can be seen for what it is in his published books of the same, edited heavily to make them better by none other than Irene Larsen, now very much an ex-devotee of Sathya Sai Baba). Larsen asked him about some prominent and extremely devoted long-term Greek devotees whose son, Socrates, had been at Sathya Sai Baba's college in Puttaparthi. They had suddenly withdrawn him overnight and had ceased to be devotees. Ratan Lal said that this Greek family left "because they had such big egos", a standard Sathya Sai Baba devotee put-down of the disaffected! However, Larsen had previously been informed that the boy had been sexually molested by Sathya Sai Baba!
During my correspondence with the US professional counsellor and ex-devotee, Mrs. Elena Hartgering, she mentioned that an Indian cardiologist who now works in New York informed her that while he was studying in Delhi in the 1960s, Sathya Sai Baba was already well known among his fellow students for his homosexual misuse of boys! Incidentally, Elena Hartgering also mentioned in a mail: "When I was in the sai center an Indian family moved to the US and became members. He is an eye doctor of some sort and his wife stays at home. One evening he told us that sai baba is hated and that is the word he used in both Puttaparthy and Bangalore . He is seen by his own people as a fraud, BUT he is also their cash cow."
An elderly Danish lady devotee, Mrs. Bitten Nelson, was interviewed by the Danish national daily newspaper, BT ( 31/1/2002 ).She had been a close follower of Sathya Sai Baba and for nearly two decades she had been totally concentrated on him, arranged group visits and held talks about him etc. At first she rejected all accusations against Sathya Sai Baba out of hand, but was later given three articles from 'India Today' and then 'The Findings'. So she went to Puttaparthi to check with Indian families with whom she usually stayed whether there could be any substance in the allegations of Sathya Sai Baba's sexual abuse. She found out independently from two separate families she knew well, after much difficulty in each case due to their fears, that Sathya Sai Baba is widely known to be a sexual abuser of boys, but it is not worth their lives to speak freely or tell outsiders of this ... only then did she begin to credit the many accounts of sexual abuse. All this was published in the Danish daily newspaper BT.
Halagappa's temple substance considered fraudulent: An Anglo-Indian called Alfred Brinnand my wife and I know from Sai Baba's ashrams and also from UK where we lived for some time in the same apartment, had a peculiar contact at Kadugodi village near the Whitefield Sai ashram, a youngish man who apparently had vibuthi and amrit issuing from his pictures of Sathya Sai Baba. Alfred reported that this young man was of the opinion that the Mysore 'Thief's Temple' of Halagappa no longer had any genuine vibuthi or amrit for he knew that he manufactured them after having lost Sai's grace! (Sai Baba had indeed given warnings about going to this Mysore temple in discourses). On Thursday, 29 January 1987, Alfred arranged for us to meet this young man, but the motor rickshaw driver could not find the address and the meeting did not take place. However, Alfred told me that this young man said he had often had sex with Sai Baba, and - though I scoffed greatly at the very idea - Alfred evidently credited him as telling the truth! I wrote this off quickly as some kind of delusion... but now I am able to see that I was most likely very much mistaken. Unfortunately I never met the fellow, for the tempo driver lost his way and we never found his rooms.
In 1987, my wife and I stayed a fortnight in UK with a very Sai-devoted and helpful Sri Lankan lady (I withhold her name, poor soul) whom we knew from Sathya Sai Baba's ashrams. Her nephew, by the first name of Dushanta, lived there too. He had been taken to see Sathya Sai Baba once, and had been given a very long private interview in the inner room. Sathya Sai Baba had given him one of his robes (always a much-coveted gift, treasured by followers as a 'blessing from the Lord Himself'). Dushanta had been offered a place in the PN college by Sathya Sai Baba. In the larger interview room afterwards, Sathya Sai Baba told the group how he had offered this boy (then still a minor) more than he had ever offered to any other boy before (this was to increase the pressure on him through his very devoted relatives, no doubt). However, Dushanta adamantly refused to go near Sathya Sai Baba again and treated the robe (which his aunt worshipped) with contempt... even burned large holes in it with a candle! I could simply not understand his attitude at the time and he would say not a single word in answer to my friendly questions. One must ask why this was so? He had already totally rejected everything to do with Sathya Sai Baba. Other explanations of this rejection could be speculated on, but in view of all the rest of it, my hypothesis seems a very likely one.
A well-known guru, Muz Murray, of France,
signed the International Sai petition on October 11. 2007, commenting.
I never was a follower. But Swami Muktananda of Ganeshpuri, warned me over thirty years ago, never to get into a private darshan with Sai Baba, as he had just returned from Puttaparthi adjudicating in a court case regarding Sai Baba's molestation of the son of two of Muktananda's disciples. Also an Arab friend was penetrated by Sai Baba many years later. I contacted him by e-mail and he confirmed his comment, but at this distance in time, he did not have access to any any documentary evidence.
Another central Sai Baba person who certainly knew the facts about Sathya Sai Baba's so-called "playing with boys" was the former ashram engineer, Mr. Kamani, Sathya Sai Baba's very close servitor in the 70s etc., who openly told the Icelandic investigator of Sai Baba's miracles etc. about Sathya Sai Baba's sexual relations with student boys. I now realize that V.K. Narasimhan almost certainly knew this too, but the facts were too sensitive for him to tell me outright and I then regarded Sai Baba as the pure celibate he claims to be. (I have recorded our exchanges on this subject before I began to realize the true state of affairs in my article 'Unnatural events in his bedroom, told by Sai Baba'.
In the infamous 1993 murders episode, two attendants were killed in a knife battle and two seriously injured, while a 14-year-old student who was with Sathya Sai Baba in his 1st floor bedroom escaped unhurt. Why a 14-year old minor, a student at Sai's college, was in Sathya Sai Baba's bedroom so late is a question well worth answering too! Ex-Home Minister S.B. Chavan is reported to have said that Baba "scolded the persons creating the noise, bolting the door from the inside." An official First Information Report (Annexure 144) reports Sai Baba shouting 'Fools, get out'. The question is why Sathya Sai Baba did not intervene.

However, the Indian Express (13-6-1993) reported that a boy in is early teens - Subbappayya - was in Sai Baba's room and opened the door when the assailants knocked saying there was a telegram for Sai Baba. They attempted to attack him, but the dagger only penetrated his shirt and he escaped unharmed. He bolted the door and alerted Baba to the impending danger. Further, why did the ashram authorities hide him away and deny police access to him for giving evidence? Why did they do the same with the two injured Sevadal attendants who had been downstairs with Radhakrishnan, namely, Baba's cook Vishnu Bhatt and the assistant Anil Patley? That the ashram authorities kept them away from any interrogation on various pretexts is not a fact disputed by any source.
Supporting indications of Sathya Sai Baba's long-term misuse of male youths are found throughout the official literature- though will have mostly been included by authors unwitting of what they reveal - even though it is well known that the only books accepted by Sathya Sai Baba have always been by authors who subject themselves to rigorous self-censorship! For example, Prof. Kasturi even describes at some length the 'grace' accorded to a major favorite young boy, the apple of Sathya Sai Baba's eye, who was allowed to come and go freely in Sathya Sai Baba's quarters, to interrupt Sathya Sai Baba in conversation without admonition and so on. (A boy with very similar privileges - whether the same boy or yet another - is described in Howard Levin's book, 'Good Chances'). Kasturi relates how, one day suddenly, Sathya Sai Baba froze out the boy completely and no amount of tears or supplications were of any avail. Prof. N. Kasturi related that the reason was probably something to do with this boy having had some illicit contact with a girl. It is well known that this is anathema to Sathya Sai Baba's misogynistic world-view.
An Indian swami calling himself Sekharji, whose views are found on an Internet website (page deleted by him from wayback), posted the following information and sent it to an exposé website.
"There is a Swamiji named 'Kaleshwara' somewhere near Bangalore. He was a young boy when Sathya Sai Baba molested Him. He, however, brought a camera and took pictures of the activities without Sathya Sai Baba knowing. Later, He extorted Sathya Sai Baba and got $1 million dollars to start His own ashram. Go to Him in Bangalore, and privately ask. He is quite open and honest about the whole matter. He may still even show You the pictures as He did to many Others.
Sekharji - 06-28-2002 08:43 PM ET (US)" See: http://www.exbaba.com/shortnews/GuruGallery/Sekharji.htm
Continue to part five of this series on sexual abuse testimonies

1) Print this Page 2) Use right click here - then 'Open page in new window' to translate