December 04, 2000 Issue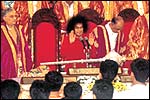 The Baba with his VIP guests at the convocation ceremony

COVER STORY: SAI BABA
from
http://www.india-today.com/itoday/20001204/cover3.shtml#devotee
Test of Faith
As India's most enduring god-man enters his 75th year, his spirituality rests uneasily with controversy

By Amarnath K. Menon and Ashok Malik in Puttaparthi
Of all the qualities his disciples attribute to Sathya Sai Baba, there is one that almost every Indian will recognise as truly divine: punctuality. On Thursday, November 23, to mark his 74th birthday-or, to use official grandiloquence, "the 75th year of the advent of the Sri Sai Avatar" - Sai Baba was to drive in to Puttaparthi's Sri Sathya Sai (SSS) Hill View Stadium at the dot of 7.00 a.m. As usual, he was bang on time.
The galleries of the stadium-which accommodate 30,000 spectators when Sai Baba devotees such as Sunil Gavaskar, Alvin Kalicharan, Sanath Jayasuriya and Sachin Tendulkar help organise cricket matches-were almost packed. The turf, a remarkably verdant patch in Andhra Pradesh's otherwise arid Rayalaseema region, seated an estimated 1,00,000 devotees. On the stage - a pink, blue and yellow film set-like construction, with winged angels playing bugles and flanking the symbols of the world's major religions - sat a twitching chief guest, Union Human Resources Development Minister Murli Manohar Joshi. Next to him was the silver throne, waiting, like the throng, for the Master.
Joshi had arrived only at 6.30 a.m., the others had begun gathering as early as 4.00 a.m. At 5.15 a.m., a policeman said, the customary white that Sai Baba's disciples wear had more or less effaced the green of the grass. If there were 1,00,000 and more inside, there were an equal number outside. Puttaparthi, a town that usually houses 20,000 people, was today playing host to 2,50,000, its precarious infrastructure fraying at the edges.
All of Puttaparthi as it were seemed to wait in this private colosseum for the Afro-haired Caesar to ride in triumphant. At about a minute before 7.00 a.m. came the caparisoned elephant, then the brass band, troupes of dancing children and, finally, Sai Baba himself, waving gently from his motorised gold and silver chariot.
As balloons with Sai Baba's likeness were released and crackers were burst in a rough and ready rendition of a 21-gun salute, the march past began. China, Saudi Arabia, Liechtenstein, the Cayman Islands, Nauru, Australia, Western Samoa: flagbearers from 165 countries (see box) presented themselves before Sai Baba. Later came the birthday hymn. A multi-ethnic choir sang a trilingual Redeemer of mankind ... yug avatar Sai to the tune of Happy birthday to you.
The valedictory sermon was, of course, Sai Baba's 90-minute Telugu discourse on love and truth and the oneness of God, on "Bad name is debt, reputation is wealth", on "constant integrated awareness"-translated instantly and with evangelical zeal by the long-serving Anil Kumar Kamaraju. The Platinum Preacher finally left in his white Mercedes-a maroon BMW is his other car. The scene shifted to the kitchens of neighbouring Prasanthi Nilayam (Abode of Peace), Sai Baba's sprawling 100-acre ashram. It was time for the feeding of the multitude.
COVER STORY: SAI BABA
The Decision That Changed It All
The numbers may have been larger than usual but the adulation and the atmosphere could hardly have been unknown to Sai Baba. He is after all among India's most enduring godmen; 60 years have passed since teenaged Sathyanarayana Raju returned home from school, flung away his books and told his sister-in-law, "I am no longer your Sathya, I am Sai", the reincarnation of the Sai Baba of Shirdi.
That "Grand Declaration" changed an individual's destiny-and a village's too. From a nondescript hamlet, Puttaparthi is now a fairly bustling town. It has a floating population of 10,000 on normal days-adding 50 per cent to its fulltime strength-and survives thanks to the Sai Baba industry.
In the fortnight leading up to the birthday, as Prasanthi Nilayam and its surroundings buzzed with the activity of the World Sai Conference, the convocation of the SSS Institute of Higher Learning-a deemed university, the vice-chancellor of which is S.V. Giri, former Union education secretary-and numerous other functions, Puttaparthi commerce was in its elements.
It was "festival time" and so the Sai Santosh Hotel trebled its room rent from Rs 350 a night on November 21 to Rs 1,000 a night 24 hours later. Italian devotees arriving hours before the birthday bash paid Rs 1,000 for a bed and a pillow in the foyer of Hotel Sai Plaza. Close by, the "World Peace Cafe & German Bakery" did brisk business offering, among other items, yak cheese sandwiches, Danish rolls, French bread, bagels, vegetarian tacos, cinammon sticks from China and two brands of decaffienated coffee, one Swiss the other American. Puttaparthi was catering to the world.
No doubt Sai tourists also dropped in on the 50 Kashmiri carpet sellers who have set up shop in Puttaparthi, the Tibetan curio shop that has opened and the textile and handicrafts mela that invited itself to the birthday celebrations. As always in India, the economics of religion could be matched only by its politics. At the birthday celebrations, Joshi was kept company by Congress MPs S.B. Chavan and Shivraj Patil and a whole host of minor politicos.
From P.V. Narasimha Rao to N. Chandrababu Naidu, every Andhra Pradesh chief minister has paid obeisance to Sai Baba. The two exceptions have been the late Neelam Sanjeeva Reddy, who was, like the Puttaparthi savant, a native of Anantapur district, and N.T. Rama Rao, who with his inclinations towards ochre robes and divinity, thought of Sai Baba's charisma as a rival to his own.
Where netas go, babus follow. The bureaucrat club was present in great numbers at Puttaparthi this past week. H.J. Dora, the director-general of police in Andhra Pradesh and Sai Baba's chauffeur when the religious leader visits Hyderabad, was at hand. So was P.L. Sanjeeva Reddy, secretary, Department of Company Affairs at the Centre.
Over the years Sai Baba's establishment has been served by a galaxy of civil servants. Former Andhra Pradesh chief secretaries I.J. Naidu and K.V. Natarajan worked for him after retirement. Another former IAS man, P. Sitapathi, is now Sai Baba's pro. K. Chakravarthy, an IAS officer of 20 years standing, resigned from the government in 1981 to become registrar of the Institute of Higher Learning and is now secretary of the SSS Central Trust, the fulcrum of Puttaparthi.
P.N. Bhagwati, former chief justice, and Y.V. Anjaneyulu, formerly of the Andhra Pradesh High Court, are members of the Central Trust management committee. So too was Justice V.B. Eradi till he was removed recently and Justice Padma Khastagir till she died. Former air chiefs O.P. Mehra and N.C. Suri are Sai Baba devotees. Just before he took over as chief of army staff, General S. Padmanabhan visited Puttaparthi.
This intense concentration of power is both a handicap and an asset for Prasanthi Nilayam. The civil servants bring with them their penchant for shadowplay. Crowds are meant to be controlled to the point of regimentation. The press is an unnecessary obtrusion. Subordinates practically click their heels and address senior ashram functionaries as "Sir". In some ways, it is the spiritual answer to Delhi's Shastri Bhavan.
The other side of the story is that Sai Baba is the sole veto holder. He balances the equations between competing coteries and keeps everybody on their toes. So when it comes to the smallest decision, only "Swami" can take it-but nobody has the courage to ask him to. Like so many institution builders, Sai Baba believes in centralised command. This has its pitfalls. When the charges of paedophilia (see accompanying story) began being levelled, nobody at Prasanthi Nilayam was ready with a counterattack.
Today, even the murder attempt on Sai Baba in 1993, in which his driver and cook died and the four disciples turned alleged assailants summarily shot by the police, is linked to inter-coterie warfare.
Despite the intrigues, for literally tens of millions of people around the globe Sai Baba is an object of reverence. While he himself says, "I am God and you are also God. There is latent divinity in us all", for the believers he is the embodiment of the Almighty. "Can an ordinary mortal retain a youthful look? Without wearing glasses or wrinkles?" asks a wonder-struck Mitsuru Iwakai, a Japanese creative arts student spending six months in Puttaparthi.
Where does Sai Baba stand in the pantheon of the mystical men of the east? In terms of political clout, he can be matched only by the late Chandrasekhara Saraswathi, the shankaracharya of Kanchi who died at 99 in 1994. While the shankaracharya's influence was derived from an ancient seat, Sai Baba is a self-made preceptor. In a society governed by a strict caste hierarchy, his family's origins as a cowherd people of the Bhattaraju community-consanguineous to the backward caste Kapus and analogous to the north Indian Yadavs-have never been an issue. Nor is Sai Baba a jealous god. You can worship Christ or Krishna or Allah, he says, and still believe in him. This has obviously widened his appeal.
As opposed to the libertine permissiveness of a Rajneesh, Sai Baba is quite conventional, men and women not being allowed to live or eat together in Prasanthi Nilayam. Against the philosophical profundity of a Jiddu Krishnamurthi or a Swami Ranganathananda, Sai Baba may appear embarrassingly epigrammatic: "What is youth? You Think Like Hanuman"; "Help Ever, Hurt Never." Even so, he seems to speak the language-if not in words in wavelength-of the individual disciple. Followers explain he dumbs down his message to reach a larger audience.
That last point really is the key to Sai Baba's future plans. He has predicted that he will die in 2022 and, eight years later, be reborn in Gunaparthi village of Karnataka's Mandya district to a woman called Kasturi. His next avatar will be called Prema Sai Baba and will have nothing to do with Puttaparthi.
In his early days, Sai Baba used his "miracles"-in 1990, P. Ramachandra Reddy, Hyderabad anaesthetist, recalls, "The Swami's miraculous healing helped cure a paralytic attack in my left arm"-to gain a following. Now he realises there is need for a more lasting impact, in the form of schools, hospitals and drinking water projects. The first 74 years have been spent converting the individual into the institution. The remaining 22 will be a shot at immortality.
-with Methil Renuka and Lakshmi Iyer