Forewarning of dangers when visiting Sathya Sai Baba ashrams

Unofficial but true information for persons considering visiting Sai Baba ashrams

It is important that someone with personal experience and confidential contacts, at least, presents some of the many undisclosed facts about Sathya Sai Baba's ashrams, where the control of public information is very tight, well-censored and is maintained by insidiously strong social taboos on what can and can't be said or told. Since I have had plenty of personal experience of the life of the ashrams and knew some very well-informed confidential contacts, besides keeping copious notes every day, I try to do my share. I leave the rosy writings to others now, having done too much more than a bit on that front before I became disillusioned!

I was once mislead badly enough through all the hype literature and zealous talk to believe that Sai Baba would, for example, never have a deceitful servitor, even a dishonest washerwoman or coolie in the ashram… they would all be spiritual due to their proximity to God Himself! When several pieces of my clothing has been stolen by a washerwoman, I carefully inquired of the public relations officials. They told me that all the washerwomen and coolies are thieves and liars! As time went on I learned that the proclaimed policy of 'first come, first served' is not practiced. There are many people who obtain privileges of many kinds… to jump queues, obtaining chits for a special place at darshan, obtaining favoured accommodation, often in return for favours to staff (including bribery). The so called 'special guests', referred to generally and treated as 'VIPs' can walk to the front of food queues ahead of cripples and the blind, and they use this privilege constantly, though there seldom any reason for their haste. This is a cause for envy in many, but this is not at all what motivates this account! I mention this because Sai Baba-devotees believe that all who criticise Sai Baba are merely envious, jealous etc., as Sai Baba himself insists! (Presumably he imagines – or even hopes – that all are envious of his blessings!).

The pleading faces and begging postures of devotees – not least Westerners and a number of the VIPs themselves – shows how true after all were Sai Baba's words about the majority of people coming for something they want from him. Some have gained favours by sitting inordinate lengths of time in the 'lines' before darshan to get a prominent place (regardless of others whom they thereby displace) month after month until Sai Baba could hardly fail to reward them without seeming very hard-hearted to all those who observe these sad cases. The thousands of hours of discomfort they undergo – and their blank faces or often piteous expressions in front of Sai Baba – says at least as much about their level of desperation and dependency as their faith. They continue this behaviour when they are made VIPs too! The fixation one observes in them and others shows what a personality cult the Sai Baba movement really is. Those who strive in all ways to become important in the movement are mostly self-important, self-seeking and often uncivil persons who I would definitely have avoided entirely had I not then been a devotee… they mostly recall the phrase, 'fools rush in where angels fear to tread'. The number of foreign devotees who have died in Prashanthi Nilayam and Brindavan through the years are many. There have been numerous murders of visitors both inside and outside the ashrams, also mortal accidents, and dozens have taken their own lives there or after visiting the ashrams. Some were literally executed within the ashram itself) It is difficult to document facts about deaths that are known to ashramites or even from personal observation - or from well-informed insiders - because the ashrams exercise the tightest secrecy and cover-ups about all untoward incidents (both the ashram staff and all Sathya Sai Baba's foreign officials in the Sathya Sai Organization). There has certainly been a much larger number of deaths than is generally known. No records are kept or made available in any way, let alone to the public, not even about those who commit suicide (a considerable number), or die of natural causes or of one or another of the many serious illnesses that can be contracted there (including polio, cholera, chronic amoebic dysentery and even malaria). Added to this, of course, are the usual hazards of many serious vehicle accidents - which have affected numerous devotees, including even major donors to Sai Baba such as Mrs. Barbara Sinclair (who died in a taxi accident on the way there in , having been called by Sai Baba to visit just then). There have been deaths from other ashram accidents too. [Three US devotes were killed in an avoidable accident when the concrete dome of the 'Eternal Heritage Spiritual Museum' at Prashanthi Nilayam collapsed and crashed through three floors, crushing two ladies to death and 26-year old Michael Oliver, who lived 11 hours in great pain with nine fractures and internal injuries. The matter was hushed up immediately. The parents of a daughter killed have received no proper explanation, not even an offer of compensation. Read the Indian newspaper report in The Hindu here]
There are various serious hazards that are never explained to visitors. None are told that there are numerous armed plainclothes guards mingling with ordinary visitors, in addition to the highly visible armed guards and security persons who are there to protect Sai Baba (by Indian Government order), who were installed not long after six young men were murdered in Sai Baba's bedroom apartment in June 1993.
Numerous rapes of females in and around the Prashanthi Nilayam ashram have been reported from time to time. These have been played down and, where possible. covered up, by all ashram authorities. Two such rapes were reported by a very devoted young US lady known as 'Divya' (Eileen Weed) who lived for long periods in the apartment of Sai Baba's sister Venkamma. Since her disaffection in 2005 after two decades of living in India, mostly at the Sai Baba ashrams, she has published a long series of letters she wrote from 1984 onwards to her parents. Here is an excerpt:-


Another rape of a female visitor was reported to the police, but, as usual, nothing seems to have been done. The police were in the pocket of the Sai authorities, so they no doubt buried the case.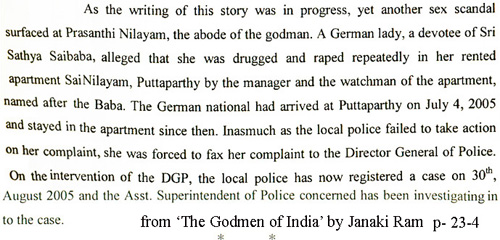 Darshan & the Dangers of Large Crowds

When complaining of the massive disturbance that a previous state visit had caused to celebrations at Prashanthi Nilayam because of the rigid governmental security arrangements, Narasimhan was told by Sathya Sai Baba that unfortunately nothing could be done to avert the visit of the then Indian President, Dayal Sharma, to the 70th birthday. (Apropos, is it not strange that Sai Baba, who claims to be omnipotent and to be the only being having any free will, should suddenly be so powerless!) That presidential visit in 1996 cost the State 6 million rupees for the deployment of 3000 armed Black Berets as security guards, whose foolishly antiquated crowd control methods nearly caused people to be trampled to death at the gates of the Hillview Stadium. Some were trampled, but recovered, including some American ladies for whom the experience and injuries sustained were very traumatic. My wife and her friends were also affected most severely, almost unable to breath and incapable of moving an inch in the enormous pushing crowd before the stadium gates, which the Black Berets kept closed long after the time announced for their opening, all because the President's car had not yet appeared. This is not untypical of the high-handed and counter-productive kinds of 'crowd control' in India, where deaths by crushing at large religious and other gatherings are fairly regular occurrences. So far I do not know of anyone who died as a result of the enormous and regular crowds through 5 decades at Sai's ashrams and other mass meetings he has attended. If it has occurred, I am at least certain that the ashram administration would immediately have done as they always do when anyone dies in their precincts. They make every effort, including payments to those involved, so as to hush it up... even send all foreigners away from the ashram within the day (so as to stop the news spreading too far).
The former long-term President of the Sathya Sai Organization in UK, Mr. Lucas Ralli, author of at least five books purporting to be 'received' from Sathya Sai Baba (Sai Messages for You and Me in 5 vols), was nearly suffocated in a crowd at a birthday celebration a year or two previous to the 70th birthday, when the Black Berets were also present and, through the imperious stupidity so widespread in many of India's authorities, nearly caused a major catastrophe. He determined that he would never again visit the ashram (where he had his own apartment) and - besides being "thrown out" (his own words) of the Sathya Sai Organization by Indulal Shah for suggesting radical changes - at he never returned there again (he has died since).
Among the many covered-up incidents at Sai Baba ashrams, one can read of a number of others here (not by any means an exhaustive account!)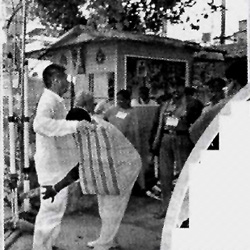 Among other hazards are the security forces who are not very smart and are often unpredictable in their work of testing for metal and weapons on all who enter the ashram compound and the undercover security agents who also overhear and report conversations which they report to the administration (and some tit bits very likely get through to Sai Baba himself for various uses)
The Danger of Being Deceived is no doubt the overall most likely trap one will face. Foreigners are vulnerable to the many false appearances of the Indian culture and society and are easily swindled and stolen from. But that is a minor hazard compared to the big issue of what absorption of the 'Prashanthi mythology' (for want of a better term). Prepared to believe almost anything in advance by hundreds of exaggerated books of followers' experiences - most eager newcomers soon accept the doctrine that everything that happens is by the direct will and/or intervention of God Himself (in the person of Sai Baba!). One can almost never get a chance to ask Sai Baba oneself, and even then he usually turns the question around to something quite else. Since his hip-joint collapse it has been virtually impossible for newcomers to get an interview, and nowadays there are none. This is felt especially to apply in the ashrams (the atmosphere is very zealous and behaviour is often quite unusual compared to sane and normal lifestyles). It is Sathya Sai Baba who places you in a room where there are filthy floors and sheets, and where you smell the nauseous stink from the open sewer pits ('the Black Hole of Prashanthi Nilayam'). It must also - as a consequence of full faith in his words - that it is he, Sathya Sai Baba, who arranges for gravel to be tipped at uncertain intervals day and night from lorries onto corrugated iron shoots outside your building. These are but 'tests of your faith' in him, and - if found deficient - who knows what bad things will surely befall you! When packs of mangy dogs conduct their running battles throughout the night, you should follow it in awe and wonder and forget sleepiness. Due to his claim of omnipresence, some say Sathya Sai Baba himself IS each of the dogs! Sai Baba has himself told stories to indicate that he is present in the dogs' (doggy) souls! Is it therefore also God who goes and asks for a different room (when you feel impossible not to try that)? Well, one can be sure it is the will of the Lord that meets you when you go to the ashram offices and are met by a petulant, scowling person who denies you another room in exercising his Napoleonic task to the fullest stretch of his authority against you. This is surely Baba Himself and you are merely getting your well-deserved karma from some past life about which nobody knows anything! When you have accepted several years of this kind of training and self-denigration, you tend to be ready to rationalize any cover-up and any evil things you see or hear (which you should not see or hear in the first place). You can also rest assured that nothing is your responsibility really, it is all God's. But you find that it does not solve any problems for you and you will most likely end up with even greater problems to solve and less self-confidence autonomy and initiative to handle them.


Unofficial but true information for persons considering visiting Sai Baba ashrams It is important that someone with personal experience and confidential contacts, at least, presents some of the many undisclosed facts about Sathya Sai Baba's ashrams, where the control of public information is very tight, well-censored and is maintained by insidiously strong social taboos on what can and can't be said or told. Since I have had plenty of personal experience of the life of the ashrams and knew some very well-informed confidential contacts, besides keeping copious notes every day, I try to do my share. I leave the rosy writings to others now, having done too much more than a bit on that front before I became disillusioned!I was once mislead badly enough to believe that Sai Baba would never have a deceitful washerwoman or coolie in the ashram… they would all be spiritual due to their proximity to God Himself! When several pieces of my clothing has been stolen by a washerwoman, I carefully inquired of the public relations officials. They told me that all the washerwomen and coolies are thieves and liars! As time went on I learned that the proclaimed policy of 'first come, first served' is not practiced. There are many people who obtain privileges of many kinds… to jump queues, obtaining chits for a special place at darshan, obtaining favoured accommodation, often in return for favours to staff (including bribery). The so called 'special guests', referred to generally and treated as 'VIPs' can walk to the front of food queues ahead of cripples and the blind, and they use this privilege constantly, though there seldom any reason for their haste. This is a cause for envy in many, but this is not at all what motivates this account! I mention this because Sai Baba-devotees believe that all who criticise Sai Baba are merely envious, jealous etc., as Sai Baba himself insists! (Presumably he imagines – or even hopes – that all are envious of his blessings!).

The pleading faces and begging postures of devotees – not least Westerners and a number of the VIPs themselves – shows how true after all were Sai Baba's words about the majority of people coming for something they want from him. Some have gained favours by sitting inordinate lengths of time in the 'lines' before darshan to get a prominent place (regardless of others whom they thereby displace) month after month until Sai Baba could hardly fail to reward them without seeming very hard-hearted to all those who observe these sad cases. The thousands of hours of discomfort they undergo – and their blank faces or often piteous expressions in front of Sai Baba – says at least as much about their level of desperation and dependency as their faith. They continue this behaviour when they are made VIPs too! The fixation one observes in them and others shows what a personality cult the Sai Baba movement really is. Those who strive in all ways to become important in the movement are mostly self-important, self-seeking and often uncivil persons who I would definitely have avoided entirely had I not then been a devotee… they mostly recall the phrase, 'fools rush in where angels fear to tread'.

---

29-10-1990
(The accident happened in the ashram on Friday the 26th October 1990)
Two women die as dome collapses
From Our Correspondent

ANANTAPUR, Oct.28
Two Americans Mrs. John Brown Hebel (45) and Mrs. Air Bonnie Lynni Mainaric (43), belonging to San Francisco U.S. were killed on Friday when the dome (kalasam) over the central gopuram of sananthana samskriti (eternal heritage) museum building under construction at Prasanthi Nilayam, about 90 km from here, collapsed.
Their bodies were extricated from the debris. Mr. Michael Oliver (25), escaped with multiple fractures. He was rushed to the Sri Satyasai Hospital Complex at Prasanthi Nilayam. He was reported to have suffered heamorrhage and was sent to Bangalore for further treatment with a doctor and two escorts.
Mr. P. Ramamohan Rao, Chairman, Prasanthi Nilayam Township Committee said the museum buildings, being constructed on the top of hillock near the administrative buildings of Sri Satyasai Institute of Higher Learning ( a deemed university), was designed by Bombay architects Godboe and Co and the designer was Mr. Pande, who had designed many high-rise buildings in Bombay and other metropolitan cities. The RCC framework of the gopuram was done by engineering contractors, Learsen and Toubro Ltd. under the personal supervision of Ramachandran, a stapathi of Tamil Nadu.
According to the engineers and the chairman of the Prasanthi Nilayam Township Committee while the construction of the dome on the central tower was going on a little tremor was felt. As the top slab could not take the weight of the materials used for the kalasam, the engineer asked the 60 and odd workers to come down and go out of the buildings. Added to this there were heavy rain, with thunder and lightning.
Two men and three women the professional architects and designers from the U.S. who had come to Prasanthi Nilayam as devotees offered to work on the sthupa erected in the middle of the shallow well on the ground floor. While they were busy giving finishing touches to the sthupa two of them ran to safety on hearing a loud cracking noise. Soon the kalasam collapsed breaking the reinforced concrete roof of the two floors, when two women and one youth were caught under the debris. Sri Satyasai Sevadal volunteers and other devotees rushed to the spot and made efforts to extricate the foreigners and cleared the debris.
Sri Satyasai Baba, during his darshan time on Friday, cautioned the devotees to be careful.
An American Embassy official rushed to Prasanthi Nilayam when he was informed of the tragedy. He got the clearance from the U.S. Government to dispose of the bodies of the two women at Prasanthi Nilayam. Mr. Ramarao said arrangements have been made for cremation of the bodies.
Mr. Michael Oliver (25), an American national belonging to San Francisco who sustained multiple fractures with internal heamorrhage died at a hospital in Bangalore on Saturday night.
The Anantapur Collector, Mr. B. Rama Rao has ordered a magisterial enquiry into the incident.
Editorial note: No results of any enquiry were found to be available. The parents of Ms. Air Bonnie Lynni Mainaric were unable to discover how or why their daughter died and considered her to be a victim of a dangerous cult.

Shoko Asahara
Unknown dangers of visiting Prashanthi Nilayam, such as when a very malignant cult tried to infiltrate Sai ashrams To an outside observer it must have been interesting indeed – and somewhat scary too – to have seen the arrival of the undercover envoys of the Japanese 'guru' Shoko Asahara of the Aum Shinrikyo cult (aka Aum Shinri Ko, Aleph and Aum Supreme Truth) when they tried to force entrance to the Prashanthi Nilayam ashram. [Remember that the head of the Aum Shinrikyo cult that poisoned Japanese subways with lethal sarin gas was also believed to have godlike paranormal abilities as well.] A group of these Japanese were sent sometime in the 1990s by Shoko Asahara to Puttaparthi, where they bought some premises and set up an Aum Shinrikyo office there (with fax machines etc.). Then they contacted Sai officials with a view to meeting Sai Baba, who Shoko claimed to be one with, but when they were given the bum's rush. Later a gang of several of them tried to force their way in to the enclosure for 'darshan' using martial arts… but were eventually fought down by numerous Seva Dals. They packed their bags and left, all within a couple of weeks. The matter was hushed up completely by the ashram and Organization, of course. The following comments were also made concerning this cult by Barry Pittard: "By the way, my recollections go back to late 1997 when I think an Aum Shinrikyo team was stopped by Indian police at Bombay airport. (Although the matter bears all the signs of being suppressed by the Government of India and Puttaparthi authorities. Remember, by the way, how effectively the latter damage-controlled information about deaths and maimings in the crowd swarming for a glance at the Indian cricket team going past in their bus outside the ashram). Aum Shinrikyo, my information goes, were linked to a consignment of very high explosives destined for Puttaparthi. Apparent target: sathya sai baba, scheduled to attend his sponsored International Cricket Match on December 30th at his Puttaparthi ashram, filmed by Doordarshan for consumption of India and other countries. Certainly, there is a whole colony of Japanese living at Puttaparthi. Since the time of the cricket match, they have been under strong accountability to Puttaparthi authorities – signing in and out between ashram and village, etc. Certainly, many beggars have been used by ashram authorities in surveilling activities, etc. "(from ExBaba.com).