SATHYA SAI BABA - POLITICAL POWER BROKER
Sathya Sai Baba's political power, acting upon his devotees in the highest posts in successive Indian governments, many political circles (State Governors etc.), the Supreme Court (through P.N. Bhagwati and others) and diverse High Court Justices and other members of the judiciary was undoubted. Various claims have been made by persons involved, without them being able to uncover definitively the methods used by Sai B

aba to exercise his clandestine power.
As India Today reported: 

"From Indira Gandhi to P.V. Narasimha Rao to A.B. Vajpayee and Manmohan Singh, almost every prime minister paid obeisance to Sai Baba. It has been a routine affair for Presidents of India - from Shankar Dayal Sharma to Abdul Kalam and Pratibha Patil - to visit Puttaparthi and spend time with him."
THESE ARE A FEW OF SAI BABA'S SCORES OF POLITICAL CONTACTS IN SOUTH ASIA ALONE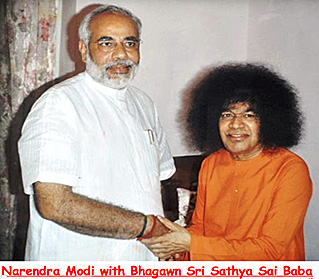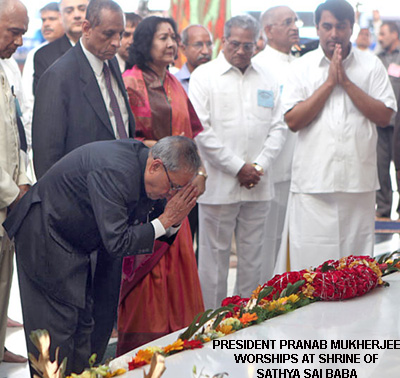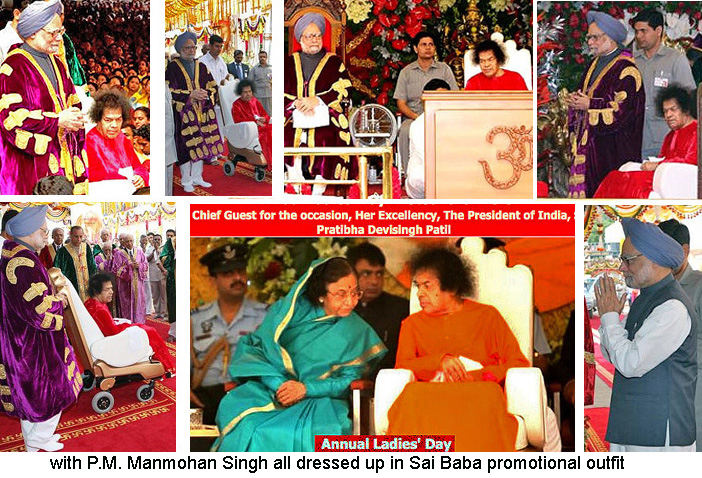 Indian Prime Ministers and Presidents even wear the gown he lends to honoured guests at his annual convocations -
in this way he ensures that they are firmly enrolled in his doings in the public eye!
This is from the 85th birthday celebrations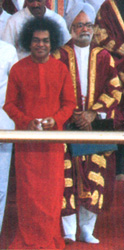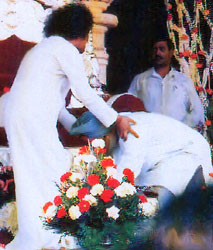 Prime Minister of India - Man Mohan Singh - at the feet of [and behind] Sathya Sai Baba
see
style="max-width:100%; height:auto;"

In 2010, the President of India visited SB yet again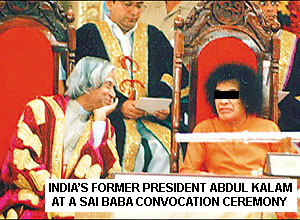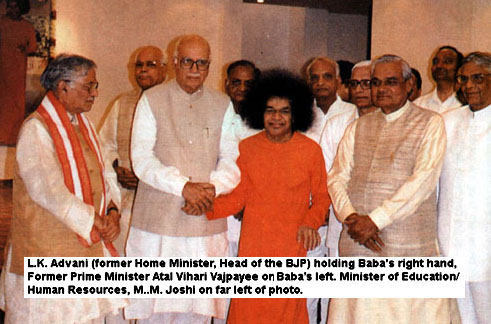 Sathya Sai and former Prime Minister of India - Atal Vihari Vajpayee (below)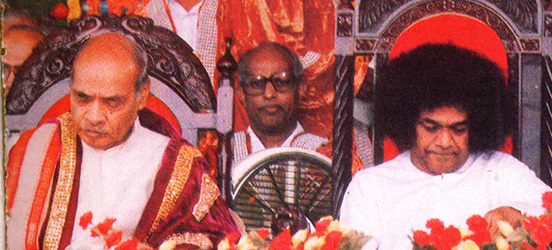 former Indian Prime Minister Narasimha Rao with Sathya Sai Baba in Puttaparthi




with the President of India Dr. Shankar Dayal Sharma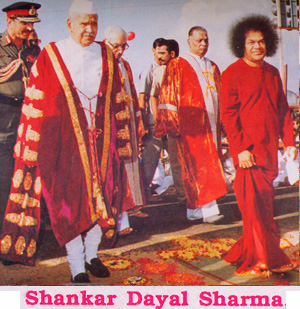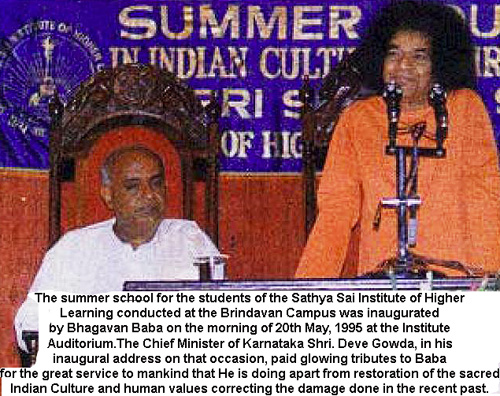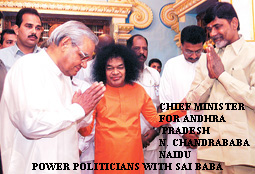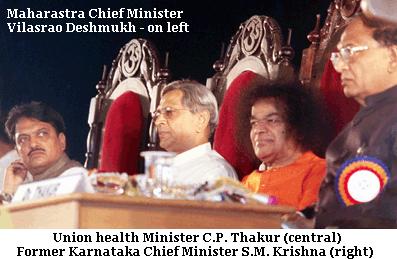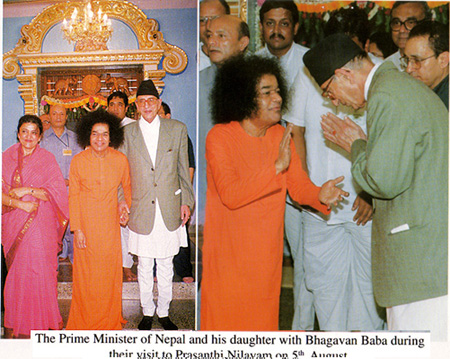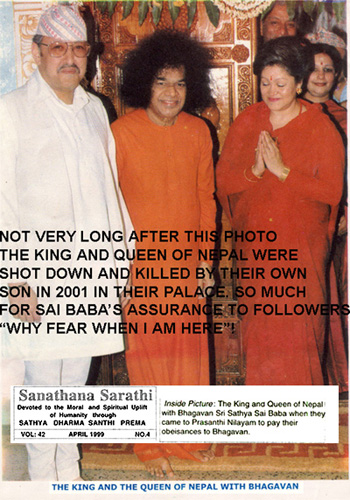 One striking instance of Sai Baba's power over politics was the alleged 'prediction' by Sai Baba to the Chief Minister of Karnataka, Deve Gowda, by addressing him in public as "Prime Minister".
Shortly thereafter Deve Gowda was elected Prime Minister after negotiations between the majority parties at the elction in May 1996. See here

Another gross example was that of Y.R. Ghorpade, Ex Maharaja of Sandur concerning Sathya Sai Baba's influence over the Judiciary, who wrote:

"Before I could mention this problem to Baba he said that I need not worry about the Supreme Court case as he would see that the case is decided in my favour, and, sure enough in the next few days I heard that we had won in the Supreme Court"
(from the 48th divine dawn Birthday Number of the News Chronicle dated 23.11.1973 and also in the souvenir published by Sri Satya Sai Seva Samithi, Bombayen titled "AT THE LOTUS FEET 1968". The article "Those early years" authored by Y.R. Ghorpade)
To get the details of the case, Basava Premanand wrote to the Ex Maharaja of Sandur and though he kept mum on the case advised him to write to Sri Sathya Sai Books & Publications, Prasanthi nilayam. He also pursued the case to th Honourable Chief Justice of India. Premanand has published the long exchange of letters with the Supreme Court, where their unwillingness to comply with his entirely legitimate requests shines through. See: DID SATHYA SAI BABA INFLUENCE THE JUDICIARY? http://www.saibaba-x.org.uk/2/indianjudiciary.html

Further, in 1994 I was visiting Mr. V. Ramnath, an IAS Vigilance Officer living in Bangalore who revered Sathya Sai Baba and who had known a number of prominent figures in Indian life, including the leader of the Bharatiya Janata Party, Lal Krishna Advani. Ramnath had known Advani from Sai Baba ashram visits for many years.Ramnath informed me that Advani- who was rather too critical of the guru - had told him on a previous occasions that Sathya Sai Baba had said to him that he would " never be Prime Minister of India". This proved to be so, because when his party won the 1996 election, though elected overwhelmingly, the Prime Minister post was instead given to a long-term Sai Baba worshipper, Atal Vihari Vajpayee! Advani served as Home Minister and Deputy Prime Minister, but never became PM, and he has since given up that ambition entirely. Everything points to the intervention of Sathya Sai Baba in favour of his devotee Vajpayee.

Former Prime Minister Deve Gowda, who was almost certainly selected to the post by Sathya Sai Baba's influence (see directly below here):-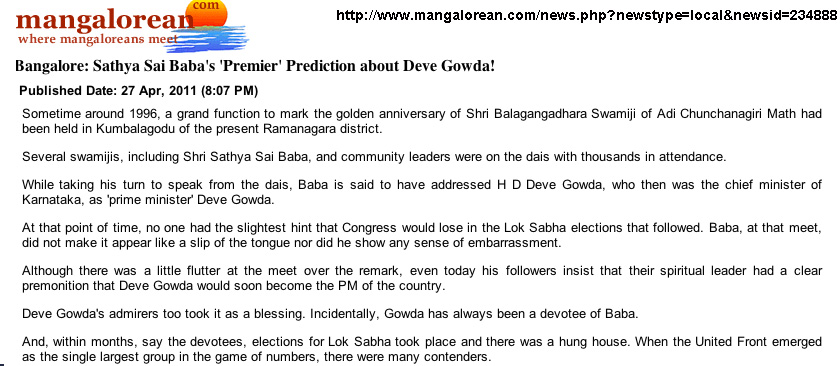 Some government and top officials devoted to Sathya Sai Baba
Prime Minister Narendra Rao
President Pranab Mukherjee (and pays homage to Satya Sai Baba)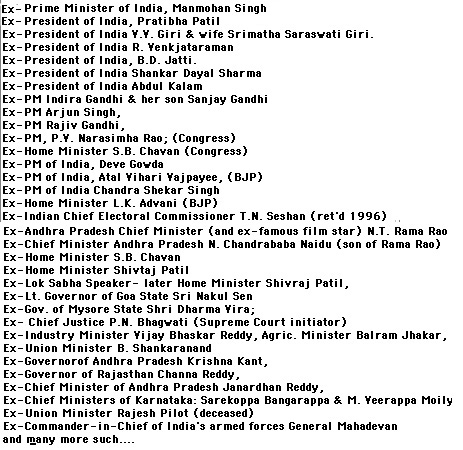 Back to index