Further proof that Prince Charles wanted to visit Sai Baba is not lacking
Humble and admiring foreign devotees (hand-picked as such) were granted the supposed great privilege of attending Sathya Sai's evening talks and by students at his Kodaikanal ashram for about a fortnight in 1992. Narasimhan was present as usual and said his piece there too. There was some bhajan singing - and all was recorded and put out by Erik Henricksen in 6 cassettes available for members of the Sai Organization to purchase. Not included in the recordings was the news from a prominent India devotee who Baba asked to tell how Prince Charles had said that he desired to get 'Swami's darshan'. The Prince of Wales has recently visited Bangalore (in 1990 or 91, staying at the Windsor Manor Hotel). He'd been about to hold an address when he learned that the said gentleman was a close follower of Sathya Sai Baba. This man told how Charles had taken him aside and spoken to him for about half-an-hour about Sathya Sai Baba, keeping his audience waiting the while. Prince Charles had reportedly said that he'd visit Sai Baba, except that the British Government was against it on security grounds.
An independent account of this appeared on-line in 2015 and scans of that site can be read by clicking here

Yet Prince Charles was moving about in South India without security problems, so perhaps the real reason was a matter of state and due to the involvement of MI6 (who later questioned David Bailey in detail). However, that was what the select band of Western devotees, which included the long-term and privileged US devotees. Robert and Rita Bruce - who were then sharing accommodation in Kodaikanal with the current US Sathya Sai Organization's leader, Dr. J. Hislop, were also present and heard this, which they confirmed to my wife and I. (We had in fact earlier been invited to share their accommodation and Hislop's, but we did not wish to be in Kodaikanal at that time).

Prince Charles and Princess Diana turned down by Sathya Sai Baba
When asked about Charles and Diana in an interview in 1996, Sathya Sai Baba had said "They are a disgrace to their country!" These was a verbatim report by Robert Bruce to me not long after the event!
One may speculate as to why Sai Baba thought this due to the separation and not least perhaps because of the leaked 'phone calls between Probably the break-up of their marriage was the big sin, though no doubt news of the much publicised tacky phone calls by Prince Charles to Lady Parker-Bowles had reached his ears too (or - according to his constant boast - he knows everything in the tiniest detail anyhow, even before it happens).
This shows how indiscriminate Sai Baba is in his sweeping condemnation, for to call Diana a disgrace to her country is completely against world opinion! It shows again just how out of touch Sai Baba is. One could argue he was against her asking for a divorce, but this does not fit with the fact that, as one example among several, he has also sanctioned and even encouraged divorces (eg. Diane Baskin's and also a Danish friend of my wife and I).
Sathya Sai Baba may well have simply been jealous of the genuine world fame of Prince Charles and especially the adulation that Princess Diana then enjoyed across the world (far, far more than his limited fame). He may even have expected them to have rushed to his "lotus feet" long since? His published boasting that the whole world loves him and will eventually have to come to his holy feet would appear yet emptier of substance. Had Charles and Diana had been such 'a disgrace to their country', one may ask what of his own secret activities for which he dare not stand up and answer? Is this unaccountability in the face of such weighty charges of serial homosexual assaults - including on defenseless minors in his colleges and in private interviews - and his widely reported complicity in cold-blooded murder not itself a major disgrace to India? (see BBC's 'The Secret Swami' shown widely on the BBC and given many most supportive newspaper reviews in UK, which indicated how the public would react had Charles visited that guru).
Another member of the British Royals, the Duchess of York (also known as 'Fergie,) visited Sai Baba at his ashram early in February 1997 and was granted two interviews without any waiting, being more important for Sathya Sai Baba than any genuine devotees, of course. This again shows the constant striving for influence and status with the famous and rich.
Both the UK and Indian press reported on the visit. A (former?) Sai follower, Terrie, who has assisted with the Sunrise website wrote me, "I happened to be at the ashram during her visit, where the ladies were far more interested in having darshan of Fergie than darshan of Sathya Sai Baba. They not only craned their necks toward Fergie during darshan, they also lined up in front of her after darshan (right on the walkway Sai Baba takes when he leaves), with notebooks and pieces of paper in hand for her autograph. "
This adulation of Sai devotees for big shots is often greater than for the guru himself, going by the eagerness with eyes glued to such famous visitors, and my wife and I have seen the same at visits by the Indian President and Prime Minister. No so surprising when one has watched Sathya Sai Baba go through the same old darshan routines and extremely repetitive discourses day after day?

Read the Sunday People newspaper's report on how the attempt to induct Prince Charles into the cult was foiled by MI6


HOW PRINCE CHARLES LEARNED OF SATHYA SAI BABA FOR AN INDIAN IMMIGRANT
An early Indian immigrant to UK, Manubhai C. Patel, who I visited a few times in Wembley (London), where he lived with his wife, was the earliest promoter in UK of books by and about Sathya Sai Baba. He sent a copy of each new Sai Baba related book in English to Prince Charles, who personally acknowledged them and his interest.
Manubhai Patel was a fully signed-up 'true believer' in Sathya Sai Baba's claim that he was the creator and sustainer of the entire universe:-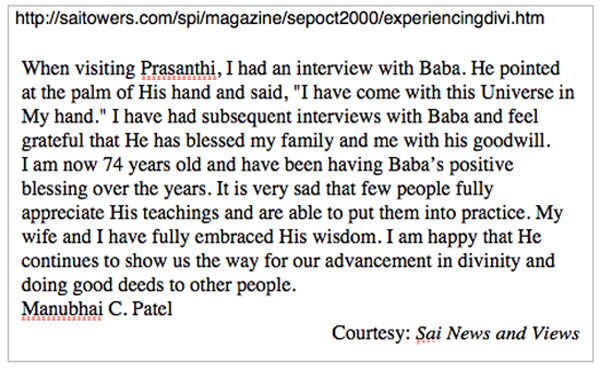 It was primarily due to the efforts of the Sai Baba exposé from 2000 onwards that the Prince of Wales, Charles, was finally stopped from visiting and seeking further contact with Sathya Sai Baba, to whom he had written letters expressing his appreciation of the guru and his desire to visit him in India. When the UK authorities, including the Foreign Office and MI6& The Metropolitan Police, realised that Sai Baba was under many clouds of suspicion for sexual abuses and cover-ups of many untoward incidents, including cold-blooded execution in his own apartment of four of his former Indian devotees, that an internal investigation was begun. One only has to know a little about the Royal Family to realise that, had the heir to the throne been publicly involved with this largely unexposed cult, what a huge furore would follow about it, with dire likely effects on the British constitution, the Royal Family and much besides. Therefore the investigations by the British authorities their subsequent pressures on the Palace to stop such developments had to be conducted in complete secrecy.
HOW THE EXPOSÉ LEARNED OF THE COVERED-UP FACTS ON PRINCE CHARLES AND MI6
One may ask how therefore I can state such things, and I learnt of them. Firstly, the British security services investigated David Bailey, who had been a very close and privileged devotee of SB, whereupon he publicised many facts about their concerns and what measures were taken to isolate him from the Royal Family, who he knew and wose princes (William and Harry) he was teaching music. Secondly, we in the exposé had a secret source who had contact within royal circles, the Foreign Office, Parliament and other top institutions in London. His identity has been kept secret, due to his position and professional constraints. In this way we learned of some of the secret deals made between some UK and Indian authorities (including Tony Blair) and other matters concerning Sasi Baba investigations.
Though Prince Charles' fascination with Sai Baba and plans to visit him were eventually stymied, it did not stop the then-alienated and Royal divorced from Prince Andrew, Sarah Ferguson, from visiting Sai Baba, where she was 'taken in' as so many others were.